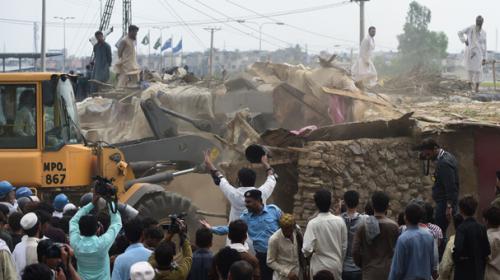 ISLAMABAD: Slum-dwellers protested against the Capital Development Authority (CDA) on Thursday as the city administration launched an operation to bulldoze houses in an illegal settlement in Islamabad's Sector I-11/1.
The Islamabad administration had taken the help of police and Rangers to move forward with the planned operation to demolish the houses. The Islamabad High Court had ordered the CDA to demolish illegal slums in the federal capital.
According to latest reports, a large number of residents had gathered around bulldozers and were protesting against the administration, pelting stones at police and Rangers personnel.
A Geo News correspondent said some women had also come out to protest on the roofs of their houses with the Holy Quran in their hands, saying they would not back down and let the administration bulldoze their homes.
The CDA claims that the area had been illegally occupied in 2005. The city administration says it had sent them several notices and given them ample time to vacate the land before initiating the operation today.
Operation halted due to darkness
The residents of the slum finally agreed to vacate their make-shift houses but only after at least seven officials of CDA and Police were injured in the clash with Afghan settlers, who pelted stones at the officials.
The operation was later halted for the day due to lack of daylight.