The Government of Punjab Saturday announced handing out Rs200,000 to people who help authorities in arresting the suspects who vandalised Lahore Corps Commander House (or Jinnah House).

The province's home department also shared the photos of the vandals and asked the public to help law enforcers track them down, noting that the identity of the informants would be kept confidential.
Violent protests took place following Pakistan Tehreek-e-Insaf (PTI) Chairman Imran Khan's arrest, in which nearly a dozen people were killed and several injured.
Khan criticised the military and his supporters raised the stakes by attacking military targets — torching the residence of the corps commander in Lahore and attacking the entrance to the army's headquarters in Rawalpindi.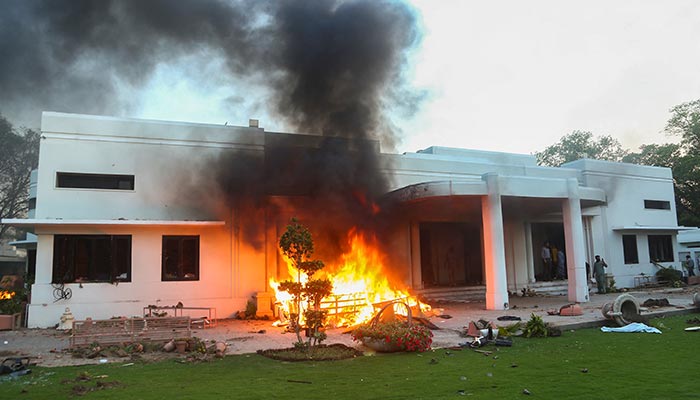 After the supporters attacked army installations, the ISPR said that May 9, 2023 — the day when chaos gripped the nation following Khan's arrest — would go down in history as a "dark chapter".
The ISPR called the PTI leaders "hypocrites" for inciting their workers against the armed forces on the one hand, and praising the military — in a bid to overshadow their criticism — on the other.
Prime Minister Shehbaz Sharif earlier today directed the Punjab government to move swiftly and arrest the vandals within 72 hours.
"I have given law enforcement apparatus a target of 72 hours to arrest all those involved in facilitating, abetting and perpetrating the disgraceful incidents of arson, ransacking, sabotage & damaging public & private properties," the PM said after chairing a meeting at the Punjab Safe City Authority Headquarters in Lahore.
He said that all available resources including technological aid and intelligence are being deployed to chase down these elements.
"Bringing these people to justice is a test case for the government. Their cases will be tried by the anti-terrorism courts," he said, adding that such kind of terrorism is unacceptable.