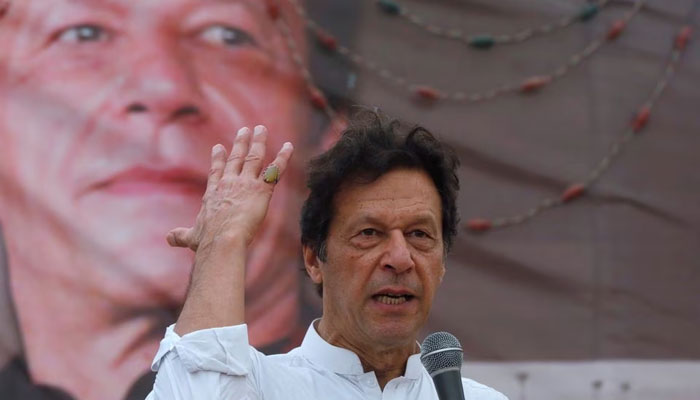 Justice Isa-led commission should be empowered to probe unknown people: Khan.
PTI chief says TORs fail to take into account who is behind unlawful surveillance.
"Elements behind such audacious tapping operate in a manner outside the command of PM."
---
Pakistan Tehreek-e-Insaf (PTI) Chairman Imran Khan on Saturday demanded that the high-powered judicial commission — headed by Justice Qazi Faez Isa — on audio leaks "should be empowered to investigate powerful and unknown elements" behind the phone tapping.
Justice Naeem Akhtar Afghan and Justice Aamer Farooq are members of the judicial body formed by the federal government earlier today to complete the inquiry within 30 days.
In a detailed statement on his Twitter handle, the PTI chief said the federal government has formed an inquiry commission under "Section 3 of the Commissions of Inquiry Act, 2017" to investigate into the issue of audio leaks.
However, the terms of reference (TORs) set by the federal government suffered from a deliberate omission, he said.
"They fail to take into account the issue that who is behind unlawful and unconstitutional surveillance of PM office and sitting judges of the Supreme Court."
He demanded that the commission should be empowered to investigate who are these powerful and unknown elements who tap and record telephone conversations of citizens including high public functionaries.
Khan, who was ousted from power in April last year, said the wiretapping was a serious breach of privacy guaranteed under Article 14 of the Constitution. 
"Not only those who illegally retrieve data through unlawful phone tapping and surveillance should be held accountable but those who through fabrication and tampering of different phone calls leak them on social media also need to be held accountable."
"Democracies governed by the rule of law propose that the state should not arbitrarily intrude into certain aspects of life. Right to privacy and dignity guaranteed under Article 14 are patently infringed whenever the state unlawfully surveils an individual," the ousted PM added.
Khan said some of the recent leaked calls were made over what was supposed to be a secure phone line in the Prime Minister's Office. "Nevertheless, they unlawfully were tapped and fabricated/tampered with."
"Seemingly, the elements behind such audacious tapping operate in a manner outside the command and even knowledge of the PM of Pakistan. Who are these actors who are above the law and outside the command of even the prime minister of the country, and who resort to such illegal surveillance with impunity? Such elements need to be held identified by the Commission," Khan demanded.