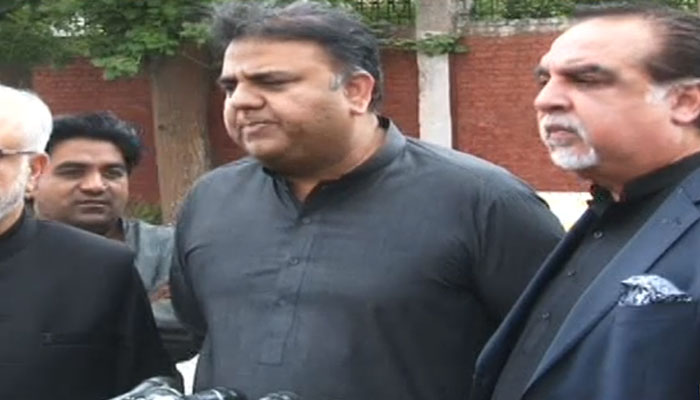 Fawad Chaudhry says they have to move towards a "stable solution".
"It was their responsibility to stop May 9 chaos from happening."
PTI deserters who took "break", "bid adieu" to politics held presser.
---
In a bid to change, what sources claimed, the loyalty of detained Pakistan Tehreek-e-Insaf (PTI) Vice-Chairman Shah Mahmood Qureshi — who according to Chairman Imran Khan will lead the party in case of his disqualification — the party's key deserters met him in Adiala jail on Wednesday. 
A delegation of PTI defectors comprising the party's bigwigs Fawad Chaudhry, Imran Ismail, Mahmood Moulvi and Aamir Kiani met Qureshi in the prison and tried to convince him to part ways with the deposed prime minister, who was removed from office via a vote of no-confidence in April last year, the well-placed sources confirmed.
Addressing a press conference following a meeting with detained PTI leader, Fawad — once a close aide of Khan — said that 250 million people could not be left at the mercy of component parties of the Pakistan Democratic Movement (PDM) — a multi-party ruling alliance led by Jamiat Ulema-e-Islam-Fazl (JUI-F) chief Maulana Fazlur Rehman.
"250 million people can't be left at the mercy of [Pakistan Peoples Party co-chairman] Asif Ali Zardari and [Pakistan Muslim League-Nawaz supremo] Nawaz Sharif," he added. 

Fawad was addressing the presser flanked by former PTI leaders Ismail and Moulvi. "We believe that [legal] action against the people involved in May 9 incidents will move forward as per the law."

The incumbent government cannot be given an open field in the absence of an active opposition, the ex-PTI leader said. He made the remarks amid rumours about the launch of a new political party in the country, mostly comprising the former ruling party's defectors.
On May 24, the former information minister announced "taking a break from politics" and parting ways with the PTI chairman over May 9 mayhem when party workers and supporters attacked public and military installations almost across the country.
The ex-PTI leader said that they have contacted Ali Haider Zaidi, Pervez Khattak, Asad Umar, Atif Khan, Farrukh Habib and other leaders, adding that they have to move towards a "stable solution".
Referring to the May 9 riots, the leader said that it was their collective responsibility to stop the chaos from happening. He added that it was also their responsibility to get the party's innocent workers release from jails.
Despite declaring his May 27 presser as his "last political press conference", former Sindh governor and PTI leader Imran Ismail was flanked by Fawad during the presser.
While announcing his departure from the party, Ismail had condemned the May 9 protests and spoke in support of the Pakistan Army. He also criticised the former ruling party's anti-establishment tirade. He had announced quitting politics too.
Aamir Kiani — who was among those who called on Qureshi in the prison — on May 17 announced quitting the PTI as well as politics.
Reacting to the PTI deserters' presser, Asad Qaiser categorically rejected Fawad's claim saying: "I have not had any contact with Fawad Chaudhry."
Several other PTI leaders have also rejected his claim about the contacts.
'Shah Mahmood Qureshi is Vice-Chairman of PTI'
Following the press conference of the PTI defectors, Zain Qureshi — son of Qureshi — dismissed the perception that his father will part ways with Khan or the party.
"Shah Mahmood Qureshi is the vice-chairman of the PTI," his son clarified.