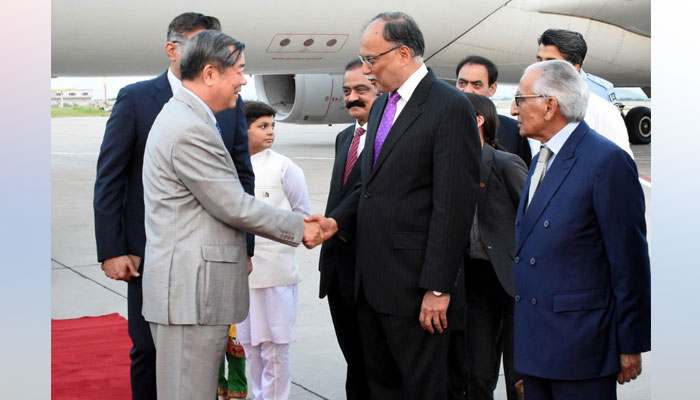 Chinese delegation comprises four ministers, vice premier. 
Ahsan Iqbal, Rana Sanaullah welcome He Lifeng at airport. 
Chinese vice premier to celebrate decade of CPEC.
---
He Lifeng, vice premier of China and member of the Politburo of the Central Committee of the Communist Party, has landed in Pakistan to attend the 10th-anniversary celebrations of the China–Pakistan Economic Corridor (CPEC).
The vice premier is on a three-day visit to Islamabad with his delegation which comprises four ministers. 
Lifeng was welcomed by Minister of Interior Rana Sanaullah and Minister of Planning Development & Special Initiatives Ahsan Iqbal at the airport. 
Vice Premier Lifeng — who is also a Special Envoy of President Xi Jinping — will meet with Prime Minister Shehbaz Sharif tomorrow (Monday) and celebrate a decade of CPEC as a chief guest. 
During the event, awards will be given to Chinese companies working on the CPEC projects. 
The visit was scheduled after Islamabad extended an invitation to the Chinese government representative. 
Lifeng has played a prominent role in China's international economic relations and implementation of the Belt and Road Initiative, of which CPEC is a flagship project, the FO said.
The visit is part of regular high-level exchanges and dialogue between Pakistan and China, which reflects the importance attached by Pakistan and China to further deepen their "All-Weather Strategic Cooperative Partnership"; reaffirm support on issues of each other's core interests; enhance economic and financial cooperation; advance high-quality development of CPEC; and explore new avenues for strengthening trade and investment ties between the two countries.
What is CPEC?
Initiated in 2013 by then prime minister Nawaz Sharif, the multi-billion-dollar CPEC project was conceived and designed as the flagship project of Chinese President Xi Jinping's signature Belt and Road Initiative (BRI).
Aimed primarily at harnessing Pakistan's important geo-strategic location into geo-economic gains through improved regional and economic integration, CPEC encompassed a full spectrum of projects ranging from physical and digital connectivity to power generation and promotion of industrialisation through special economic zones.
After extensive research and consultations and deliberations between representatives of the governments of China and Pakistan, a comprehensive portfolio of projects was identified for implementation under the early harvest phase (2018), short-term projects (2020), medium-term phase (2025), and long-term phase (2030).