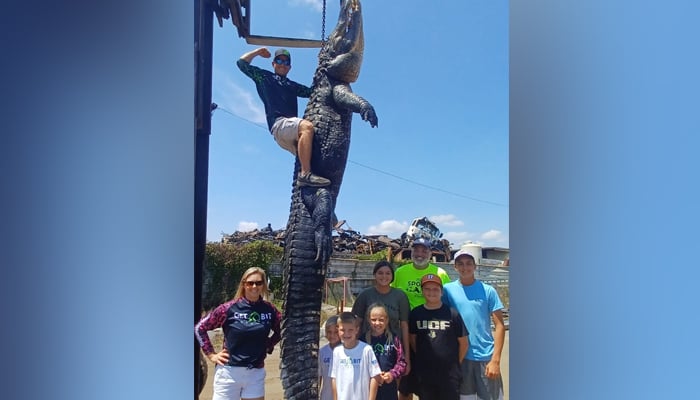 Weeks after Mississippi hunters caught a 14-foot-long giant alligator, a team of Florida Gator Hunting bagged the reptile which is 900-pound heavy from a lake in Florida near Orlando's population hub.
Kevin Grotz, who runs the outfit Florida Gator Hunting told Orlando station WESH 2: "I had a fear like I never felt before."
The pictures and videos released on their social media show the alligator's full might.

According to the catchers, the alligator was 13.3 feet long with a weight of 920 pounds. The mighty reptile was the second largest specimen ever in the state — with the first beigest one weighing 1,000 pounds.
He said he had never "experienced anything like this in his 20 years as a charter boat captain."
Grotz said: "Ultimately, if a beast of that size gets a hold of you or, God forbid, a child, the odds are tough."
"Honestly, my first concern was safety because we were in a smaller boat," Grotz said. "And then you add a gator whose head is this big. All he has to do is turn, and we're in trouble."
"The gator hunter knew he had to be smart and play this safe," adding that he fortunately "couldn't have been with better people."
In a video clip released by the outfit, Grotz and company can be seen battling the colossal critter, which appears to be longer than their rickety fishing boat.
"When we saw this gator, it was way bigger than anything we've ever caught before," exclaimed fellow gator hunter Darren Field, comparing it to a "giant dinosaur."
The battle reportedly took Grotz and his team a whopping four hours to catch the behemoth — a tug of war leaving them drained.
"I laid down in the front of the boat and said, I have to lay down until we get back because I thought I was going to die," said friend Carson Gore while recalling the interspecies heavyweight bout.
The pictures show the team using a rope to hoist up the modern-day dinosaur, which is so massive it looks like it could be edited.
This recently caught giant was more than a hundred pounds heavier than the 800-pound caught last week in Mississippi.
Meanwhile, the biggest such creature caught was a 15-foot, 1,011.5-pound giant that was bagged in Alabama in 2014.
"I don't ever feel good about killing an animal. But with that being said, I respect the harvest," explained Grotz, adding that hunting gators also helps protect people from the "killing machines."