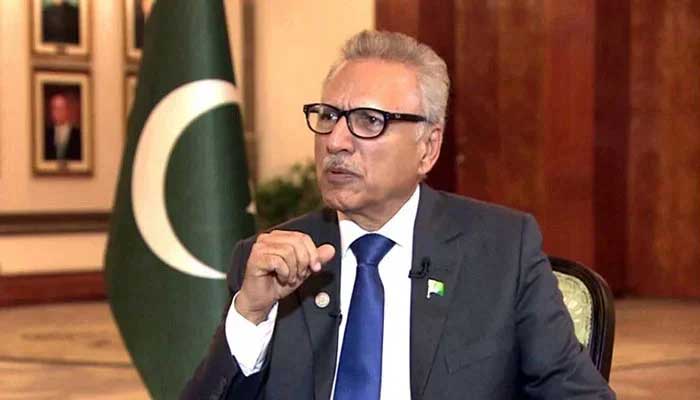 Durrani active again after remaining silent for a long time.
He advocated for dialogue between key political players in PTI era.
Meeting comes as President Alvi is completing constitutional term.
---
ISLAMABAD: Days after an unexpected meeting at the President House triggered speculations regarding the announcement of the election date, another "unusual" huddle took place between President Arif Alvi and former information minister Muhammad Ali Durrani, on the eve of the completion of the president's constitutional term on September 8 (today).

Durrani, the Pakistan Muslim League Functional (PML-F) leader — who served as information minister during late military ruler General (retd) Pervez Musharraf's era — last made headlines when he, in 2021, proposed to initiate a "grand dialogue" among stakeholders.
In 2020, Durrani also met the then-leader of the opposition Shehbaz Sharif in Kot Lakhpat jail in Lahore during the tenure of the Pakistan Tehreek-e-Insaf (PTI)-led government to convey an "important message".
A day earlier, The News reported that the former information minister called on President Alvi at his official residence. However, no official statement regarding the meeting was issued.

"Political pundits are terming the meeting unusual, as Durrani was inactive in politics for a long time and played a key role in the backdoor meeting," the publication said.
The Alvi-Durrani meeting took place just days after a high-profile huddle held on the fourth floor of Aiwan-e-Sadr (Presidency), where the president's office is situated.
During the meeting, the fourth floor of the Aiwan-e-Sadr was off-limits and even the staff was restricted from entering the area, according to The News.
No statement was issued by the President House regarding the meeting between 'three elders'. However, given the country's current situation, there were a lot of speculations on social media.
According to some speculations, the president could announce the general election date in the next 72 hours. The president had written a letter to the chief election commissioner for a meeting to set the date for upcoming elections. 
However, the CEC refused a meeting, saying that under Article 57 of the Election Act 2017, the commission had the authority to set the election date. 
The Ministry of Law also had the same response to the president's request for advice.
There were speculations that the president could announce the date of elections under Article 58 of the Constitution, and the meeting was important in that context.
Another aspect of the meeting could be the amendments to the Army Act and the Official Secrets Act regarding which the president had tweeted that he had not signed and ratified the bills, which had later become law.
Some had also linked the meeting with the completion of the term of the president, which is ending on Sept 8 (today).