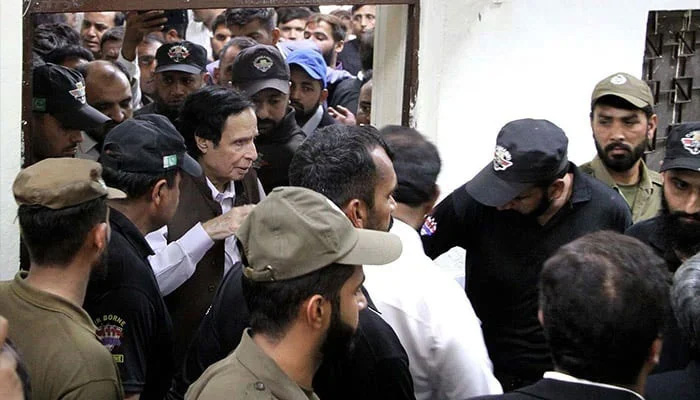 New case filed under section 5/2(d)47 of the Prevention of Corruption Act.
"Can't the chief minister appoint his own chief secretary?" Elahi's lawyer asks.
Court earlier ordered politician's judicial remand in FJC case.
---
ISLAMABAD: Pakistan Tehreek-e-Insaf (PTI) President Parvez Elahi Monday found himself embroiled in yet another case, as he will now be headed to Lahore with the Punjab's Anti-Corruption Establishment (ACE) following an approval of their request seeking his transitory remand.
After an anti-terrorism court (ATC) ordered to send him to jail on judicial remand in the case pertaining to the attack on the Federal Judicial Complex (FJC), the Punjab ACE stepped in seeking the senior politician's remand in a new case filed in Lahore for misusing his power and position to shuffle provincial bureaucracy.
According to a first information report (FIR), Elahi has been booked under section 5/2(d)47 of the Prevention of Corruption Act (PCA) for illicitly misusing his position and power as the then-chief minister of Punjab and transferring Muhammad Khan Bhatti, an employ in a special department of the Punjab Assembly, to a principal secretary.
ATC judge Abual Hasnat Zulqarnain approved the Punjab ACE request to issue Elahi's one-day transitory remand after reserving its verdict in the wake of arguments presented by the anti-graft department.

"Can't the chief minister appoint his own chief secretary? He has the authority to appoint his own staff," Elahi's lawyer Sardar Abdul Razzaq said during his arguments, revealing that the case against the politico was filed a day earlier.
He contested the case was booked after a lower court in Lahore discharged his client on Sunday. Elahi, however, wasn't released due to the non-payment of surety bonds.
The PTI leader's counsel said that his client has been targeted due to political vengeance since January and argued that he was arrested again after being discharged from the courtroom.
Earlier, the court had ordered Elahi to be sent to jail under judicial remand during the hearing of the FJC attack case in the very establishment.

"When will Parvez Elahi's life be spared?" the judge asked.
The politician's lawyer said that his client was being continuously moved from one city to another. 

Elahi, too, was present in the courtroom himself and appeared on the rostrum to speak before the judge.
"Yesterday, I was taken back to Lahore from Islamabad," Elahi lamented.

The judge told Elahi and his lawyer regarding the non-payment of surety bonds.
"The bail bonds were to be submitted today," the politician's lawyer said.
The PTI president said his meeting with the family has not been arranged during the period of arrest. "Issue an order for a meeting with family."