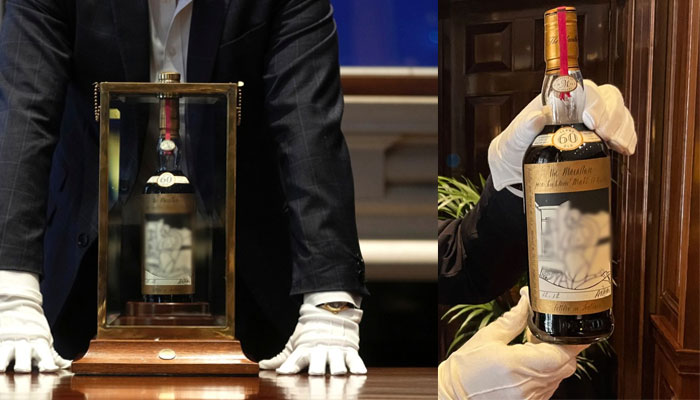 In a historic auction at Sothebys in London, The Macallan Adami 1926 Scotch whisky has set a new world record as the most expensive bottle of wine or spirit, fetching an incredible £2.1 million. 
The sale, which took place on Saturday, saw a fierce bidding war between participants on the phone and in the room.
Aged for 60 years in sherry casks by Macallan in Moray, northern Scotland, only 40 bottles of The Macallan 1926 were bottled in 1986. Notably, twelve of these bottles, including the one sold at the auction, featured labels designed by Italian painter Valerio Adami. The previous record for the most expensive bottle of wine or spirit was also held by a Macallan 1926, sold by Sothebys in 2019 for nearly £1.5 million.
Jonny Fowle, Sothebys global head of spirits, remarked that The Macallan 1926 is the whisky every auctioneer desires to sell, and every collector wishes to own. Describing the record-breaking sale as momentous for the whisky industry, he highlighted the significance of this achievement.
The sold bottle, the first to undergo reconditioning by the distillery before the auction, had its cork replaced, and new glue applied to the bottle labels. The final price of £2,187,500, including the buyer's premium, far exceeded the pre-sale estimate of £750,000 to £1.2 million.
Macallan's Master Whisky Maker Kirsteen Campbell, who inspected the whisky during reconditioning, noted its rich dark fruit and black cherry compote aromas, accompanied by sticky dates and sweet antique oak. She described the experience of opening this iconic 60-year-old single malt as special and expressed hope that the new custodian would enjoy the privilege.