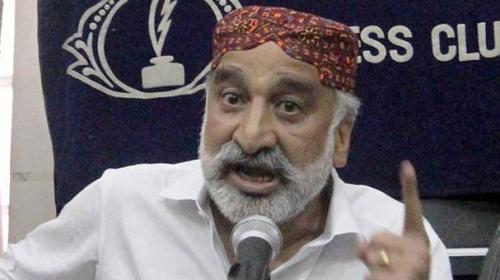 KARACHI: In an explosive interview on Wednesday, former Sindh Home Minister Zulfiqar Mirza said the Pakistan Peoples Party (PPP) was being run as 'a one-man show'.
"Asif Ali Zardari is running the Sindh provincial government like his personal business," he said while speaking to Geo News anchor Shahzeb Khanzada.
"I am sad that slain BB had sacrificed her life for the welfare of the poor, not so that some millionaires become billionaires, or that governments are run like private companies and policies made for personal benefits," he said.
He claimed that some 'cronies' wanted to keep Bilawal away from politics.
All this was against the principles of Benazir Bhutto and I believe Bilawal feels the same way, he said.
Mirza accused the PPP leadership of also personally benefiting from such policies.
Speaking on Aaj Shahzeb Khanzada Ke Saath, Mirza vowed that he would reveal several secrets regarding the functioning of the PPP when he writes his book.
"Nobody knows Asif Ali Zardari better than me. Nothing is hidden from me. When I die, everything will be revealed in my book when it is published from London or USA," he said.
Mirza claimed that Zardari only valued his own business interests.
"I was told [by Asif Zardari] that I am damaging his 'policy of reconciliation'," said Mirza.
Further criticizing Asif Ali Zardari, he claimed the former President of Pakistan was suffering from 'a disease'.
"This is a disease. How much money or businesses does one need? If there is a flourishing business, he wants to make it his own. This is why I distanced myself from him," he said.
The former home minister said that the party was "selling the blood of slain Benazir Bhutto".