KARACHI: Director General Pakistan Rangers Sindh, Major General Bilal Akbar lauded the professional standards maintained in management, administration, security and counter terrorism operations by the Special Security Unit (SSU) of the Sindh Police.
According to a hand out issued by the unit, the DG Rangers paid a visit to the SSU facility where AIGP Security Maqsood Ahmed briefed him about various sections of the security unit, its mode of operations, SSU projects under 'Security Vision 2020' as well specializations and efforts to establish Police Emergency Response Center – 911.
The DG was also informed about the decision to establish a Counter Terrorism University in Sindh and the issuance of an ISO certificate by the United Kingdom Accreditation System (UKAS) for maintaining an international standard in the field of counter terrorism operations and provision of foolproof security to important personalities and vital institutions, the handout read.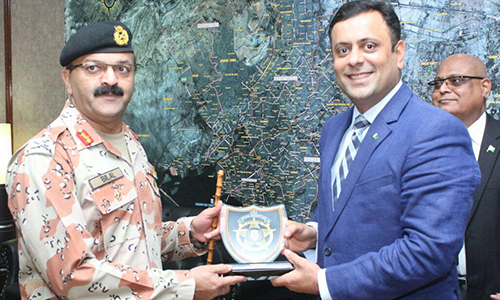 AIGP Security, Masqood Ahmed gave a detailed presentation to DG Rangers about the establishment of a Special Weapons and Tactics (S.W.A.T) team. According to the AIGP, the SWAT team comprises of highly trained commandos equipped with modern tactical weapons, capable of responding to any emergency situation round the clock. The unit is also being trained by the Pakistan Army to further enhance professional techniques of the unit including the women commandos at its various training facilities.
Under the 'Hostile Environment Awareness Training (H.E.A.T), the unit has undertaken the task of educating citizens from different walks of life including teachers and students as well, so they may better tackle hostile environment situation and save themselves and those around them.
The DG Rangers was given a tour of various sections of the facility including the armory, firing range where he appreciated the high standard of management and professionalism of the SSU.
AIGP Security later presented Major General Bilal Akbar with a memento SSU shield.