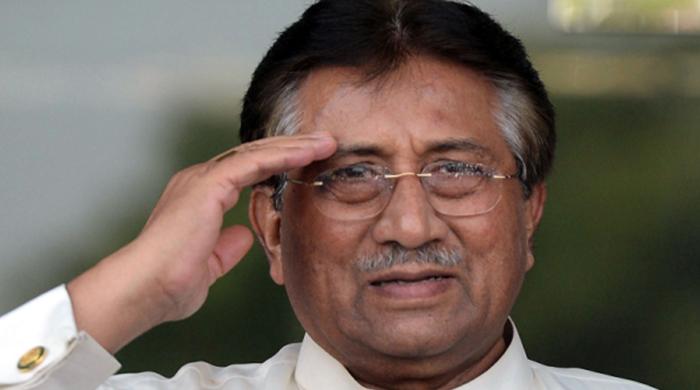 KARACHI/DUBAI: Former President General retired Pervez Musharraf left the country in the wee hours for Dubai where he has already restarted his political activities.
Back pain may have restricted the retired General from making court-appearances but when his convoy pulled up next to the aircraft on the tarmac, Pervez Musharraf is said to have been well enough to use the stairs instead of an Ambo Lifter.
Not a General Departure

A six-car convoy pulled up next to the aircraft in Karachi where almost all passengers had boarded the flight. However the last few passengers were stopped in their tracks as General Musharraf climbed up the service stairs on the Jet-bridge to board the plane.
When the flight landed in Dubai, about two dozen APML supporters had gathered to receive their leader. Their wait was fruitless as another VVIP convoy pulled up next to the aircraft on the tarmac to receive and whisk away Pervez Musharraf.
Politics switched back On
Having only just arrived in the UAE, Pervez Musharraf has restarted his political activities with an All Pakistan Muslim League (APML) UAE chapter meeting already summoned for this evening. Musharraf is expected to preside over the meeting himself, at his residence.
Earlier on Thursday Federal Interior Minister Chaudhry Nisar Ali Khan announced the government's decision to allow Pervez Musharraf to go abroad for medical treatment and ruled out any 'secret deals' behind the decision.
"This group will criticize the government for letting Musharraf go abroad… and the same group will oppose keeping him in the country," he said in an apparent reference to Pakistan People's Party (PPP).
Nisar said the same group presented guard of honour to Gen Musharraf in their tenure.
Criticizing the previous government of PPP, he said Benazir Bhutto murder case was not solved during their 5-year-long tenure.
Chaudhry Nisar Ali Khan said the lawyers of the former military dictator had assured the apex court that their client would return to the country and would face the cases in courts. He said Musharraf was allowed to travel abroad on humanitarian basis.
Bilawal criticizes PMLN for setting Musharraf free
Pakistan People's Party (PPP) Chairman Bilawal Bhutto-Zardari reacted to the government's decision to allow Musharraf to travel abroad for treatement. On Thursday Bhutto took to mirco-blogging site Twitter to express his disapproval, he said his party leadership stripped former military ruler Gen (retd) Pervez Musharraf of his powers and what has PML-N done, 'set him free?.'
"SMBB [Benazir Bhutto] deprived him from his real power: his uniform.AZ threw him out of Presidency.What did you do? Set him free?" he posted on Twitter soon after the press conference of Interior Minister Chaudhry Nisar concluded in which he announced the government's decision of allowing Musharraf to travel abroad.