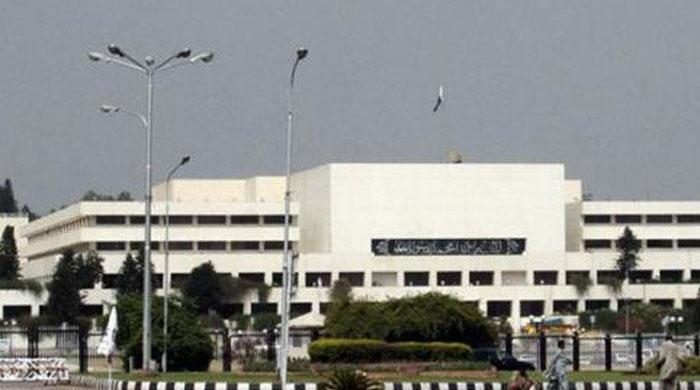 One of the reasons why democracy could not take its roots in Pakistan is the lack of democratic values within the mainstream political parties, which has gradually stopped the growth of a political culture that could nurture dedicated workers and leaders for leading the party. Politics today revolve around legacies and personality cults rather than making parties strong enough to choose their leaders.
Political parties lose their case in defending democratic system when they themselves fail in evolving the same in their own parties. The manner in which parties select their leaders in the name of elections only help in creating undemocratic values in society.
In the absence of a true democratic culture, negative tendencies have gripped other institutions like trade and student unions, which parties look sincere to restore. These two are considered as nurseries for healthy political environment. It seems there have been deliberate attempts to keep control of political parties in 'few hands'.
On Tuesday, Prime Minister Nawaz Sharif missed the opportunity of introducing something different in our weak political culture. Irrespective how elections were held in the party, if he himself had stepped down as party chief, allowing elections and proposing any other senior member, he could have set a good precedent which would have increased pressure on his political rival Imran Khan as well in holding intra-party elections.
The PML-N elections must be analysed in this backdrop. There were a lot of senior leaders in the party and trusted aides of Sharif. Most of the parties including PML-N and PPP believe that the party should be separated from the government, but it only remains on paper.
Besides the election, what else came under discussion on the PML-N's highest forum, which is supposed to be held every year but last held in 2013? Was any annual report presented or any audit report of accounts, any critical debate etc.?
Like the way PML-N elected or selected Nawaz Sharif and Shahbaz Sharif, PML-Q also got Chaudhry Pervez Elahi and Mian Zaheeruddin unopposed as President and Secretary General. Soon, we will hear similar news about the PPP and PTI as well.
It is a test for the Election Commission of Pakistan to assess such elections and procedures.
Political parties can fight against undemocratic parties when they themselves are on a strong footing. The PML-N certainly fails in creating healthy democratic values within the party. Mian sb should have presented himself for internal accountability.
He has fought a long battle against Musharraf's military rule, playing a historic role in the lawyer's movement and creating a healthy political atmosphere in the country. But, on the other hand, he should have satisfied his own party over issues like 'Panama Papers' and offered himself for accountability within the party.
But this is not confined to PML-N. Sharif's archrival Imran Khan's case is not very different.
Imran has been the head of the Pakistan Tehreek-e-Insaf since its inception in 1996. Even after PTI approved its constitution, the lone party elections were held in 2013 just before general elections.
Despite allegations and counter-allegations, it was a positive start of a new PTI. Yet, when its own election commission started giving verdicts on petitions and disqualified some of the leaders, Imran intervened, which ultimately led to disbanding the election commission. The commission's chief, retired Justice Wahjiuddin, first resigned and later quit the party.
PTI elections were never held after that but another election commissioner, Tasneem Noorani, also resigned, which raised questions about the validity and legality of the present PTI.
Imran should have gone for elections instead of taking shelter behind the 'Panama papers movement'. How can he bring a change in the country when he cannot bring changes within his own party through democratic means?
Yes, there is no chance of family legacy in PTI, but does that mean that one person remains the chairman for ever.
In the PPP's case, it is even worse as it celebrates its 49th Foundation Day next month. Party founder Zulfiqar Ali Bhutto, in the party's founding document and constitution, suggested the party's separation from the government, but this clause was never implemented. When Bhutto was in jail, he asked senior vice-chairman, the late Sheikh Rasheed Ahmad, to work as acting chairman, but on the latter's request late Begum Nusrat Bhutto was asked to lead the party.
She led the party well under crisis during Zia's martial law. But, the way she was sidelined by none other than late Benazir Bhutto was something which disappointed many party leaders.
However, Benazir after her return to Pakistan once tried elections in the party in 1987, but her 'ill-advised advisers' scared her by saying that progressives and anti-establishment people in the party would take over.
Elections in the PPP were never held, but when in 2002 General Pervez Musharraf tried to get Benazir disqualified, the party formed the Pakistan People's Party Parliamentarians (PPPP) and Makhdoom Amin Fahim became its President. He led the party well till his death and never showed disloyalty towards the Bhuttos or the PPP.
It was a window of opportunity for the PPP to continue with this practice but PPP Co-Chairman Asif Ali Zardari, instead of holding elections, decided to take over as President of PPPP as well as PPP Co-Chairman and Bilawal Bhutto became chairman while Faryal Talpur became president of PPP's women wing—all in the family. Long live democracy.
He also ignored suggestions from veterans like Chaudhry Aitzaz Ahsan, Qamarzaman Kaira, and Nadeem Afzal Chan to step down or become Rahbar.
The Jamaat-e-Islami (JI) has some very good traditions of holding party elections, but at the same time has given some 'dictatorial powers' to its Amir (chief). With a limited number of its voters, around 40,000 to 50,000, it is easy to manage elections as not everyone can become its member without screening.
Its Amir has unprecedented power and can continue as Amir for unlimited terms and, except in Syed Munawar Hasan's case, all other Amirs had long tenures.
But, in 2013 elections, something unprecedented happened in the JI, when its Karachi Amir, Mohammad Hussain Mehnti, ignored the Karachi Shura's decision and without taking anyone into confidence announced boycott of elections in Karachi. It created a lot of discomfort within JI members and leaders. Later, the party also took disciplinary action but the boycott had a negative impact on JI.
The Awami National Party (ANP) also held elections but when Asfandyar Wali completed his two terms and should have stepped down, he and his team allegedly maneuvered and got the party constitution amended. I once asked him in an interview whether his decision was 'democratic'. In an unconvincing answer, he said: "it is up to the General Body."
The crisis which MQM is facing today is mainly because of such similarly undemocratic practices due to strong likes and dislikes of the Quaid-e-Tehreek.
It is true that 37 years of martial law and role of the establishment in politics forced mainstream parties to check such infiltration, but, that does not give excuse to not even trust your most trusted men to lead the party.
The worst democracy is better than dictatorship, but a sham democracy is another form of dictatorship, and is certainly not acceptable as democracy.
—The writer is the senior columnist and analyst of Geo, The News and Jang.