At least nine civilians were martyred and several including women and children injured as a result of unprovoked Indian shelling at the Line of Control (LoC) on Wednesday.
According to Inter-Services Public Relations (ISPR), Indian forces carried out unprovoked artillery shelling in Neelum Valley at the LoC. The ISPR placed the death toll at seven civilians martyred and 11 injured.
Indian troops fired a rocket at a passenger bus near Dhaundiyal. They also fired at an ambulance and targeted the settlements along the border, ISPR said.
Seven of those targeted by Indian shelling were critically injured, officials said. A shell was fired at a house where a girl was martyred and three people, including a woman, were injured.
The ISPR added that Pakistani troops responded in a befitting manner to the Indian aggression during which 7 Indian soldiers were killed.
According to the ISPR, three Pakistani soldiers also embraced martyrdom. Those martyred include Capt Taimoor Ali Khan, Havildar Mushtaq Hussain, and Lance Naik Ghulam Hussain.
Educational institutions were shut down in the area for an indefinite period following the heavy shelling. According to Commissioner Neelum Valley, a shahrah leading to Khel was also closed for traffic. Markets in the area were also closed.

Picture of child injured from Indian shelling – Geo News
'Pakistan to respond to India at place & time of its choice'
"Pakistan reserves the right to respond to unprovoked Indian firing at the place and time of its own choice," Director General Military Operations (DGMO) Maj. Gen. Sahir Shamshad Mirza made it clear to his Indian counterpart in a hotline contact this evening.
"Discussing single point agenda, the DGMO demarched his Indian counterpart for targeting of a bus of civilians, by Indian troops, with innocent people inside on Pakistan side of the LoC," the ISPR said.
"We reserve the right to respond at the place and time of our choice," Gen Mirza made clear to his Indian counterpart.
Protests against Indian aggression
In Mirpur, teachers and students protested against unprovoked Indian firing at the LoC. Protesters chanted anti-Indian and pro-Pakistan slogans.
Calling on the international community to take notice of atrocities being committed, protesters said India was afraid of the freedom movement in Kashmir.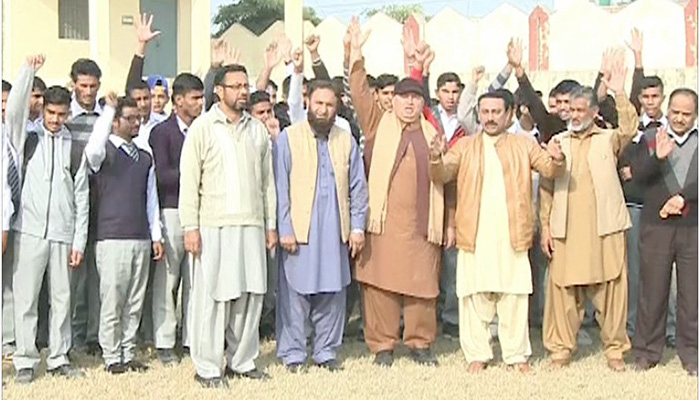 Protest in Mirpur against Indian firing at LoC - Geo News
PM strongly condemns Indian firing on bus at LoC
Prime Minister Nawaz Sharif has condemned in the strongest words the unprovoked firing by Indian security forces on a civil bus carrying innocent civilians along LoC near Neelum Valley.
In a statement he prayed for eternal peace of the departed souls and grant of courage to the loved ones of the Martyrs to bear this irreparable loss with fortitude.
The Prime Minister said that the valiant personnel of Armed Forces who embraced Shahadat on Wednesday are held in highest esteem.
He said despite our exercise of maximum restraint in the wake of continuing naked Indian aggression along LoC resulting in the martyrdom of innocent civilians including children and women India has failed to comprehend the gravity of the situation.
Nawaz Sharif said no responsible state can permit targeting innocent civilians in general and ambulances carrying the injured in particular.
"In fact India is trying to divert the attention of the international community from the grave human rights violations and atrocities being committed by the Indian security forces in the Indian Occupied Jammu & Kashmir.", PM added
He said Pakistan will never abandon their Kashmiri brethren and will continue to support them in their just and legitimate freedom struggle for their right to self determination in accordance with the UNSC Resolutions.
Politicians condemn Indian aggression
Defence Minister Khawaja Asif said that in today's clash Indian Army suffered more losses. "The region can come under fire due to India's warmongering," said Asif.
Chief Minister Punjab Shehbaz Sharif condemned Indian firing at the LoC. Shehbaz Sharif added that Pakistani soldiers were giving a befitting response to the Indian army. "The entire nation stands behind the Pakistan Army," Sharif said.
Pakistan People's Party (PPP) Chairman Bilawal Bhutto Zardari condemned the Indian firing which was targeting innocent civilians. Bilawal called on the United Nations to take notice of Indian ceasefire violations at LoC.
Unprovoked Indian firing in several sectors across LoC
India resorted again to unprovoked firing at LoC on Wednesday morning, ISPR said in a statement.
Indian troops carried out unprovoked firing in Shah Kot, Jora, Battal, Kerala, Baagh, Bagsar, Tattapani sectors. Pakistani troops responded befittingly to the Indian fire, ISPR said.
Heavy exchange of fire continues at the LoC.
Earlier this week Indian troops targeted Jandroot, Kerala and Baroha sectors and martyred four and injured 10 civilians on the Pakistani side. Pakistan Army killed at least six Indian soldiers in retaliatory fire.
On Saturday, Pakistan Army had shot down an Indian spy drone in Rakhchakri sector. On the same day, Indian forces had martyred four minors on the Pakistani side of the LoC.