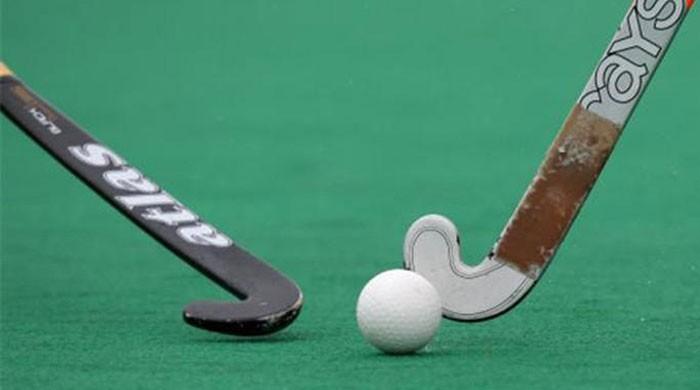 KARACHI: The Pakistan Hockey Federation (PHF) has expressed disappointment at the decision of International Hockey Federation (FIH) to exclude Pakistan from this month's junior hockey World Cup in Lucknow, saying that the unjust act has pushed Pakistan hockey back a few years.
"Pakistan hockey was banking on this bunch of players for the revival of its fortunes. This unjust act has pushed our hockey back a few years, this unfortunate decision of the FIH is a great setback to Pakistan hockey." the PHF said in a statement on Thursday.
"All this (preparations ahead of the tournaments) has now gone down the drain. The junior boys, who had been looking forward to appear in the biggest event for their life, are in a state of shock," the statement added.
The FIH had earlier withdrawn Pakistan's name from the tournament as PHF was unable to confirm travel plans due to continuous delay by India in issuing visas to Pakistan players.
The PHF has also rejected FIH's claim that Pakistan didn't submit travel documents on time, terming it baseless.
"This version of the FIH is completely baseless as the PHF had submitted Visa Application Forms along with the relevant documents pertaining to visa formalities well in time on October 24," the PHF said.
"India is ready to provide visa to the Malaysian team, who have replaced Pakistan, in three-days. When Pakistan hockey team last visited India, for the SAF games in February this years, the Visa had been issued within two weeks of submission," the statement added.
The PHF further said that the Federation never asked for any undue arrangements for Pakistan Hockey team and team was ready to participate in the event despite the hostile political relations between two countries, without the demand of any additional security for players.
Meanwhile, a top official of PHF has stated that Pakistan will try to convince FIH that it shouldn't grant hosting rights of any tournaments to India.
"It is difficult for us now to say that we are ready to play in India in future, we might not go there and play again," said Shahbaz Ahmed, secretary of Pakistan Hockey Federation.