Every year since 2010, the Karachi Literature Festival – held at the Beach Luxury Hotel overlooking the Chinna Creek – welcomes throngs of bookworms eager to indulge in a mesmerizing flurry of spoken and written word for three days and get their hands on the most-anticipated, published and to-be-launched works of famed and upcoming authors.
This time is no different, and for your convenience (and to our delight), we have shortlisted some of the most interesting book launches scheduled at the literary event.
Let's flip the page!
Nobody Killed Her | Dr. Sabyn Javeri
Likely set to shake up Pakistan in 2017, Sabyn Javeri's newest novel is based on popular politician Benazir Bhutto's assassination towards the end of 2007, and focuses on the life of a powerful leader and third-world feminism.
Huffington Post mentioned 'Nobody Killed Her' as one of the novels that booklovers can't wait to read this year.
Currently an assistant professor at Habib University's School of Arts, Javeri has been mostly involved with creative writing and storytelling. She holds an interest in the feminist movement in Pakistan, and recently taught Muslim Feminist Fiction at the Institute of Business Administration (IBA) in Karachi.
Joining Javeri in her session on Saturday are author Maniza Naqvi, lawyer and broadcast journalist Ayesha Tammy Haq, and Anita Weiss, a University of Oregon professor who is currently conducting research on political Islam and development in Pakistan and women's rights.
High-Life in Pakistan | Regula Bubb
Wife of the former Swiss ambassador to Pakistan, Bubb is a lawyer and calls herself the 'trailing spouse', who, during her stay in Pakistan up till 2014, moved in Pakistan's 'high society' and wrote her memoirs in High-Life in Pakistan.
Her book details a chronology of political episodes in Pakistan coupled with tidbits of her personal observations. The book happened after Bubb's friends convinced her to compile her travelogue blog posts into a book.
Maniza Naqvi, British Business Centre Pakistan CEO Malahat Awan, and Syed Nusrat Ali will be the panelists accompanying her on Saturday at KLF.
The Party Worker | Omar Shahid Hamid
The writing of Omar Shahid Hamid, who returned to work in Karachi as a Senior Superintendent of Police in the Counter Terrorism Department last year after a five-year hiatus following threats from extremist groups, remains deeply tied to Karachi and its political and criminal happenings, which have been the major theme in his two prior novels – The Prisoner and The Spinner's Tale, and his latest book The Party Worker.
Hamid is the son of assassinated KESC MD Shahid Hamid. His new book delves into "the Machiavellian politics of Pakistan's busiest city, where friends come bearing bullets, and enemies can wait patiently for decades before striking".
Preeti Shenoy will join Hamid as a panelist in the discussion on Saturday, which will be moderated by Bilal Tanweer.
Sadequain and the Culture of Enlightenment | Akbar Naqvi
Akbar Naqvi was a well-known art critic, historian, and teacher, who died in November 2016 at the age of 85, leaving behind a legacy of major books on art in Pakistan – Image and Identity: Fifty Years of Painting and Sculpture in Pakistan, Pakistan: The Making of Art, and Sense and Insanity, among others.
Sadequain and the Culture of Enlightenment deals with the legendary Pakistani painter's work, and analyzing it in philosophical, poetical, cultural, and enlightenment viewpoints. Naqvi had the honour of reviewing Sadequain's art in his lifetime, and was an acquaintance of the artist as well.
The talk on Naqvi's book will be delivered by Nasreen Askari and Saquib Hanif, with Sibtain Naqvi as the moderator.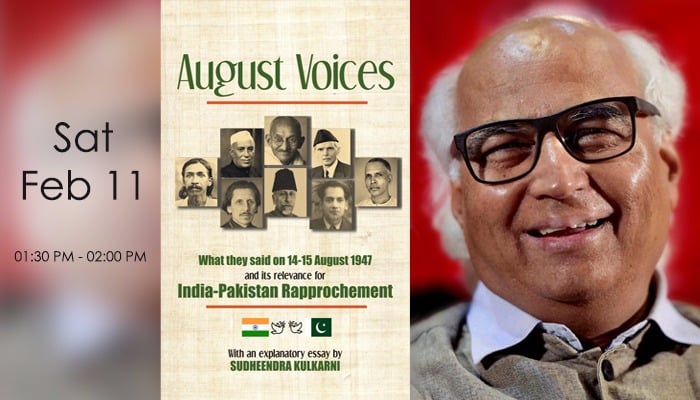 August Voices | Sudheendra Kulkarni
With an open and accepting mind promoting better, peaceful Indo-Pak relations, and consequently having faced severe backlash, Kulkarni's August Voices is a fascinating work that illuminates the two countries' linkages in context of a group of individuals alive at the time of and involved in the independence.
This group comprises Indian leaders Mahatma Gandhi, Jawaharlal Nehru, Sri Aurobindo, Anand Coomarswamy, Maulana Azad, and Swami Ranganathananda, along with Mohammed Ali Jinnah and poet Faiz Ahmed Faiz.
Last year, Sudheendra Kulkarni faced an ink attack by Hindu extremists in India, when he was on his way to attend a book launch of former Pakistani foreign minister Khurshid Kasuri.
Sudheendra Kulkarni will be gracing KLF in his session with Matthew A. Cook and Syed Jaffar Ahmed.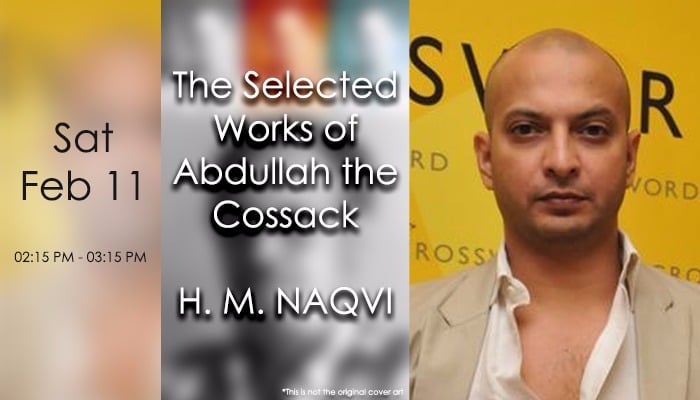 The Selected Works of Abdullah the Cossack | H. M. Naqvi
Not much is known to us about this piece by H. M. Naqvi, but considering it is Naqvi, it has piqued our interest, and we believe it's going to be amazing. Add to this the fact that, in an email to the author, renowned Urdu novelist late Abdullah Hussain commented that The Selected Works of Abdullah the Cossack "has proved […] absorbing and it is a delight to read".
Framji Minwalla, former chairman of the Department of Social Science at IBA, Karachi, will be moderating this session.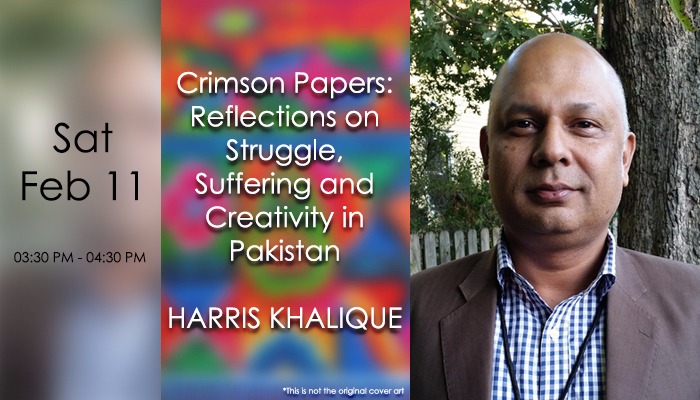 Crimson Papers: Reflections on Struggle, Suffering and Creativity in Pakistan | Harris Khalique
Having co-written English novel Unfinished Histories, and boasting several collections of poetry, Harris Khalique is set to launch his book Crimson Papers: Reflections on Struggle, Suffering and Creativity in Pakistan this KLF.
50-year-old Khalique is an Islamabad-based author whose interests include various social causes, such as women's and minority rights movements and community development.
Christina Oesterheld and Arif Hasan will be present at his session, which will be moderated by senior journalist and writer Ghazi Salahuddin.
Daddy's Boy | Shandana Minhas
Daddy's Boy, a 200-page book, is primarily a tale about a boy who travels to the City of Lights for his father's burial – surprising as his father had been dead since years according to his mother – and gets caught in a web of mysteries, making the novel a very curious case embedded with darkness and cynicism.
According to NYT columnist and novelist Bina Shah, Minhas "[surprises] you as a reader with her wit, acerbity, and prescience."
Framji Minwalla will be moderating this session.
Hybrid Tapestries by Muneeza Shamsie
A guide to the Subcontinent's literature scene, but leaning towards Pakistan, Hybrid Tapestries details 13 authors and their lives. It summarises how the literary scene has progressed through decades.
With Ayesha Tammy Haq moderating the session, Ghazi Salahuddin, Framji Minwalla, and David Waterman will be talking to Shamsie about her book.
Muneeza is celebrated author Kamila Shamsie's mother.
The Pakistan Anti-Hero: History of Pakistani Nationalism through the Lives of Iconoclasts | Nadeem F. Paracha
Famed and allegedly-controversial Nadeem Farooq Paracha in his second novel – writing debut being End of the Past – explores the rise, fall and subsequent revival of nationalism in the country.
Paracha's exploration is influenced several notable people with whom he had encounters early in his life and later as a journalist.
In his book, he supposedly observes these figures more so in an isolated manner, exempt from the traditional names society has attached to them, and brings out a separate understanding of Pakistan, very much in line with his unique thinking and point of view.
With 'satirist' included in his bio, this book definitely is a must-read. Mazhar Zaidi will be moderating this session.