Last August, Khyber Pakhtunkhwa set up the first-of-its-kind school, in a remodelled shipping container, in Lakki Marwat. At the inauguration, the education minister promised to roll out another 200 of such educational facilities across the province. Seven months since, the government seems to be falling short on its promise. The feasibility report has yet to be completed, even though Rs. 1 billion were allocated for the much-publicized project in the annual budget.
In 2014, there were an estimated 2.5 million children out of school in Khyber Pakhtunkhwa. Officials have not released an updated number. For the Pakistan Tehreek-e-Insaf led-government getting these children enrolled has been an uphill task.
By converting containers into classrooms, the government had hoped to trim costs. Ageing school buildings are a drain on the education budget, while these metal structures provide a secure and robust setup that can be moved between towns.
Costing Rs.11 million, each solar-powered box would be able to host up to 28 children. Inside, the classroom would be fitted with an air-conditioner, a projector and a biometric attendance system apart from being lined with rows of desks and repurposed laptops. The school would also include a recreational area as well as portable toilets.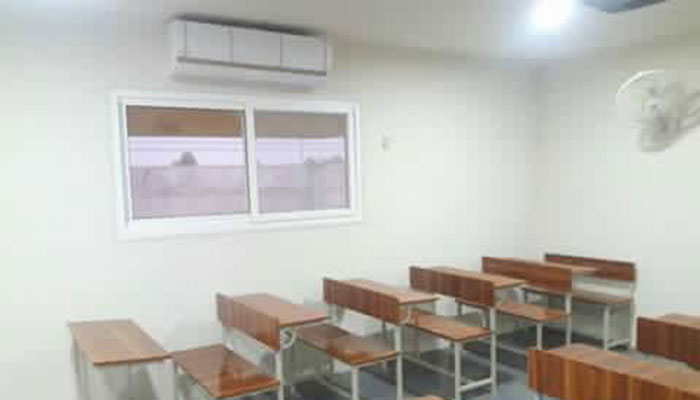 It is an ambitious vision. But for now, it is on hold. "Regular schools can accommodate up to 40 students," says Muhammad Atif Khan, the Elementary and Secondary Minister for Education, "but in shipping containers, there is only room for 28 students. Also, the low height of the containers can be a possible health hazard. So, it is pending until we get a go-ahead from the engineering department."
However, an official of the education department, who asked not to be named, tells Geo.tv that the feasibility report has rejected the use of shipping containers as a safe option. The government is now exploring the use of other materials for the schools.
Khyber Pakhtunkhwa's concept of smart schools is more than just setting up facilities in metal boxes, he adds. The project also envisions providing quality education and introducing integrated learning and teaching methods. Since last year, the provincial government has improved many existing state schools. "We have already built over 500 I.T. labs in government schools and another 600 will be completed soon," the official says.
Despite the scepticism, Najiullah Khattak, the media adviser of the provincial government, is hopeful that the project can still be saved. Once approved, says Khattak, the 200 container schools can be set up within a month's time.