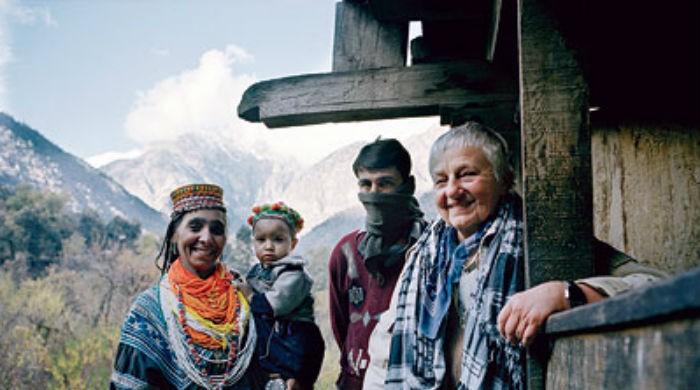 PESHAWAR: Maureen Lines, a worker for the Kalash people, was born in London but for her home was in the north of Pakistan amid the mountains, where she will rest in peace.
While talking to Geo News, her personal assistant Jaunas Khan said she was a journalist when she went to Chitral by road from Karachi in the early 1980s. After staying there for some time, she moved back to London where Lines pursued nursing related courses.
Her first visit was not the last as after getting paramedical education she went back to Chitral, only to dedicate the rest of her life to people of the Hindukush.
It was not just health of the people of Chitral that she worked for; her initiatives also pertained to forest conservation, drainage system, culture and education.
With only a tour guide accompanying her, Lines would go from door-to-door at the houses in Chitral to talk about female health, said Jaunas.
Lines started an organisation, Hindukush Conservation Association, in 1995. She and her group of 'bare feet doctors', as they called themselves, would go around helping people with health related issues as medical facilities are a privilege even to date in many parts of Khyber Pakhtunkhwa on the whole.
After spending over two decades in the region, Lines was granted a card by National Database and Registration Authority that was a document proof of her being a citizen of Pakistan.
After going back to the northern areas, Lines stayed in Chitral until 2001. After which she moved down to Peshawar from where she would visit Chitral for a month or two.
Being a photographer, Lines compiled her photos in a book and also wrote a few others, including Beyond the North-West Frontier and Disaster to Catastrophe.
She was awarded Tamgha-e-Imtiaz in 2008 for her services.
However, after remaining ill for a few months, Lines breathed her last Friday night.