LUMBINI/ISLAMABAD: New details have emerged in the case of former Pakistan Army officer Lieutenant Colonel (retd) Habib Zahir, who went missing in mysterious circumstances during visit to Nepal last month.
CCTV footage, snapshots of which have been obtained by Geo News, show Lieutenant Colonel (retd) Habib Zahir at the Gautam Buddha Airport in Lumbini, close to the Nepal-India border on April 6. The footage also shows the white car outside the airport which picked up Zahir shortly before he disappeared.
Although no official version has yet been released on the matter, sources say an Indian national identified as Dolly Renchal had come to receive Zahir in the same white car which can been seen in the footage.
The time and date details on the footage show the car parked at the airport at 11:34 AM. The car was there for more than two hours, sources said, waiting for Zahir's flight to land around 2 PM. The CCTV video shows Zahir at the airport at 2:04PM, minutes before his mobile phone stopped responding.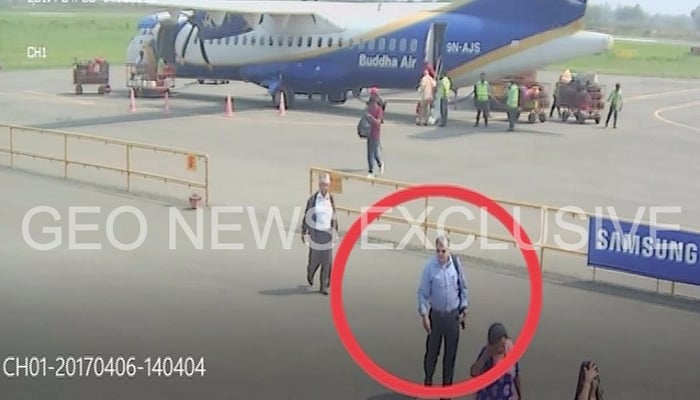 According to sources, Zahir had got a Nepali phone number that was working until 40 minutes after which the signals were lost. The number was last traced near Maya Devi Temple, close to Lumbini Gate.
Lumbini Gate is situated four to five kilometres from the Sonali border crossing point, where no system is in place to check people entering and leaving the city to go to India. Lumbini is situated in Rupandehi district, which has four crossing points that connect Nepal to India.
The geographical location and lack of vigilance in the area where Zahir was last spotted suggest he was picked up by Indian intelligence agencies.
The Nepali government has not yet given an official version on the matter, but sources said the presence of hostile agencies in Nepal cannot be denied.
While speaking to Geo News, Pakistan's ambassador in Nepal, Javed Umrani, said they have been in contact with the Pakistani foreign ministry, but nothing could be said yet.
Trap suspected
The sources also said that the company that had arranged Zahir's visit and offered him a job has not been traced on the internet yet. This is because the company's Twitter account and website are closed.
The retired colonel left for Nepal on April 5, then reached the country's capital, Kathmandu, the next day. From there he went on to Lumbini, close to the Indian border.
He contacted his family last on April 6 and after that, he could not be reached, his family has revealed.
A First Information Report registered by his son, Saad Habib, states Zahir was received by a man named Javaid Ansari at the airport in Kathmandu on April 6.