Distraught after receiving death threats, allegedly from the Taliban, the family of Aitzaz Hasan — the courageous teenager who sacrificed his life to stop a suicide bomber from attacking his school in Hangu — anxiously awaits a response from official quarters.
The 15-year-old student became a national hero after his act of bravery on January 6, 2014 saved hundreds of lives. He was later awarded the Sitara-e-Shujaat.
However, his family's pleas for protection are going unheard as they cautiously go about their lives in their village of Ibrahimzai.
Speaking to Geo.tv, Aitzaz's elder brother, Mujataba, said that on April 3 this year, the family received a threatening letter from the Tehreek-e-Taliban Pakistan, which stated that "Aitzaz Hasan is not a hero nor a martyr. Aitzaz's brother Mujtaba should stop meeting media and officials of government institutions otherwise he will be responsible for any loss."
Three days later, Mujtaba went to the city police station and registered a complaint, asking authorities to protect his family.
Hangu City SHO Farid Khan confirmed to Geo.tv that Mujtaba had filed a complaint on April 6. However, the SHO added, they have not yet registered a case as the inquiry into the matter is underway.
Unsatisfied with the response of law enforcers, Aitzaz's family wrote to Interior Minister Chaudhry Nisar Ali Khan and the Khyber Pakhtunkhwa inspector-general of police requesting adequate security for his family in the wake of the recent threat. 
"Despite my plea to the relevant security institutions informing them of the threat, I have not yet received a reply from any of them," Mujtaba lamented.
"Right now my family only has one guard for protection, provided by the district administration. It is my humble request from the authorities to give us the required security – my family is going through trauma and right now we need their support."
He regretted that the provincial and federal government were "disgracefully ignoring his family".
"The provincial government has not maintained any contact with my family. They are yet to honour their commitment of establishing two colleges and a sports stadium in Aitzaz's name. Meanwhile the federal government is yet to ever contact us."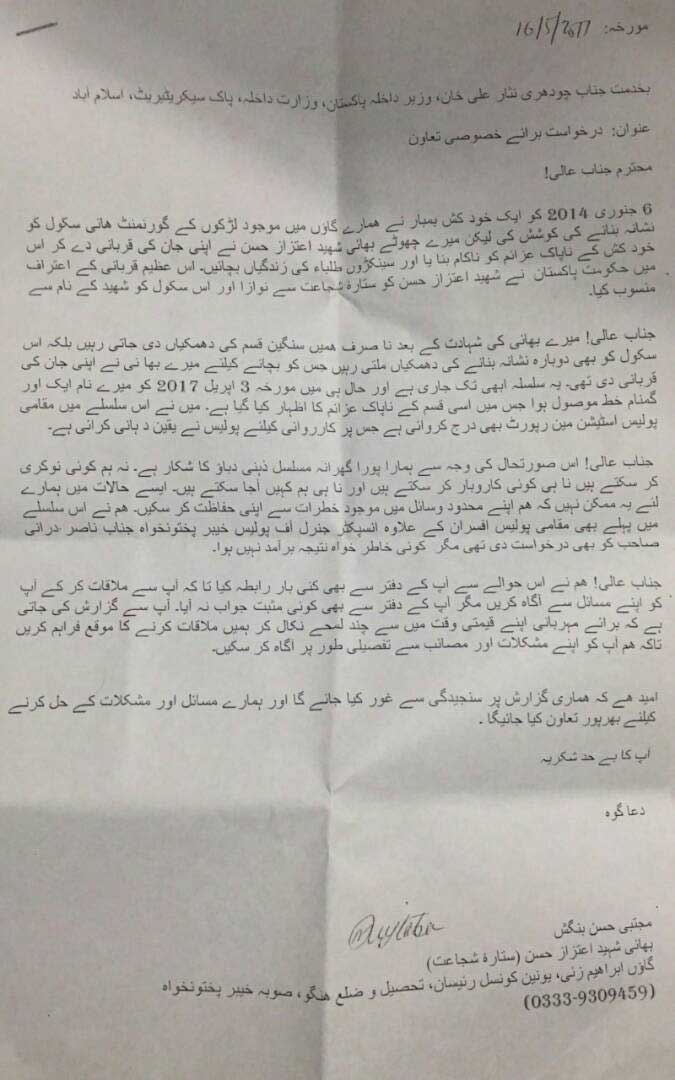 No one has bothered to ask us how we are living our life, he claimed.
Mujtaba said his family demands that January 6 be observed as 'Aitzaz Day' all over Pakistan so their loved one's sacrifice should never be forgotten.
"He is a young martyr who gave his blood for the country, please don't ignore us so ruthlessly," he said, addressing the relevant officials.