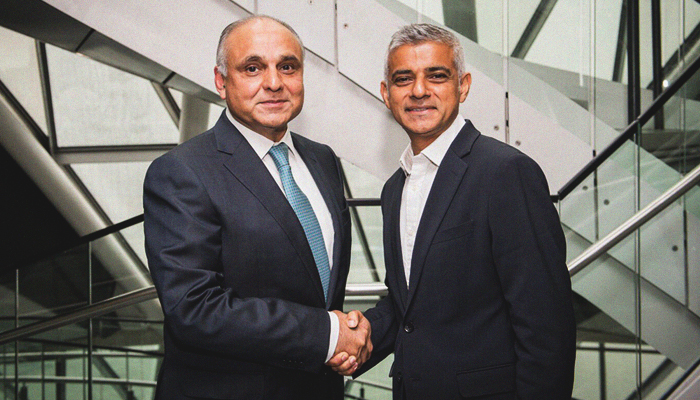 LONDON: Pakistan's High Commissioner to the United Kingdom Syed Ibne Abbas called on Sadiq Khan — the city's mayor — at his City Hall office Wednesday evening, according to a statement issued August 31 by the Commission's Information Division.

Khan, welcoming the High Commissioner at his office, said the connection between London and Pakistan is "strong as ever".
London benefits from Pakistan and vice versa, the mayor observed, noting, in particular, the Pakistani diaspora's significant contribution to strengthening linkages between the two countries.
Abbas and Khan discussed major possible fields of cooperation between the nations, such as culture, business and investment, sports, and education. The High Commissioner outlined Pakistan's economic turnaround, especially with regard to China Pakistan Economic Corridor's (CPEC) game-changing potential.
The mayor, in turn, shared with Abbas his plans to make London an open, attractive destination for businessmen, students, and tourists. The High Commissioner appreciated Khan's initiatives as the city mayor.
Speaking of Pakistan's 70th independence anniversary, the mayor appreciated the High Commission's efforts in arranging commemorative events and termed the idea to wrap up the famous buses of London in beautiful Pakistani cultural imagery as "fantastic".
The two ended the meeting on a note of understanding that more work is required to enhance business, investment, culture, and sports ties. They expressed their satisfaction over the engagement level between the offices of the Mayor of London and the High Commission for Pakistan.