LAHORE: Former prime minister Nawaz Sharif arrived in London on Wednesday to tend to his ailing wife, Begum Kulsoom Nawaz.

Earlier today, Nawaz boarded the flight for London at 11am via Pakistan International Airlines flight PK-757, however, the flight was delayed for one hour.
According to aviation sources, the flight returned to the runway as the health of two female passengers suddenly deteriorated.
The recently re-elected Pakistan Muslim League-Nawaz president is accompanied by his secretary Mohammed Hanif Khan.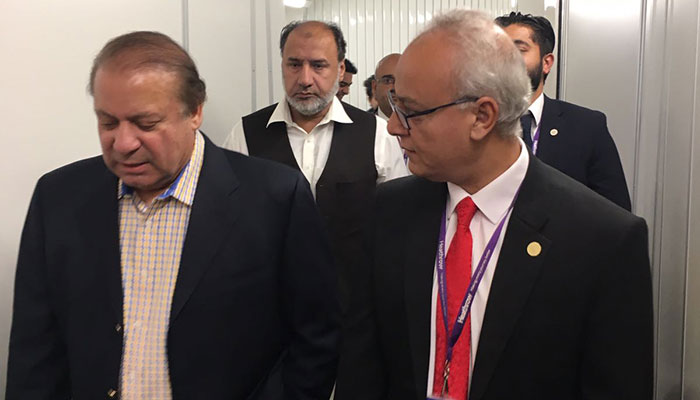 Prior to his departure, Nawaz met party leaders and government officials at the departure lounge of the old airport. 
The former prime minister's PIA ticket has a return date of January 4, 2018, according to a copy of his ticket obtained by Geo News. However, sources said that is only because of a 'requirement' and the former premier may come back at any time before that. 
This is the second visit of the former PM to London after his wife was diagnosed with lymphoma (cancer of lymph nodes) by British doctors on August 22.
Sharif, who left for London on August 30 on account of his wife's medical treatment, returned to the country on September 25 to face the Supreme Court-directed corruption cases against him.
After Nawaz's appearance before the court, Mohsin Ranjha, a member of his legal team, briefed the media. He said the former premier's indictment has been deferred to October 9, the next date of hearing.
The former prime minister's children are still in London. On September 26, the court had also issued bailable arrest warrants for his children and son-in-law as they failed to appear before it, despite two earlier summons.
Maryam Nawaz had gone to London after the by-election on Nawaz's home seat in Lahore, held on Sept 17, which was bagged by Kulsoom by a winning margin of around 14,000 votes.
The seat was vacated after Nawaz's disqualification by the Supreme Court in its July 28 judgment in the Panama Papers case.