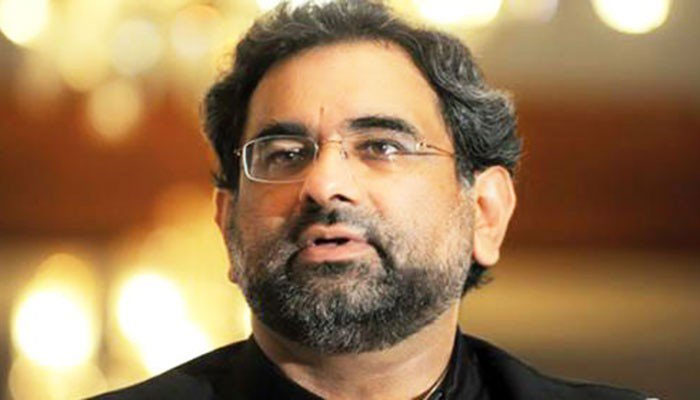 ISLAMABAD: Prime Minister Shahid Khaqan Abbasi on Thursday said the recent statement by Captain (retd) Safdar was pointless and no one in the ruling party agrees with his point of view.

In an interview on Thursday, PM Abbasi said, "Neither Nawaz Sharif nor the party or I am responsible for what Capt (retd) Safdar said [in the assembly]."
The premier said he would inquire from the son-in-law of the ousted prime minister with whose permission he made the statement.
"I must tell Safdar to refrain from provocative statements. As the son-in-law of Nawaz Sharif, he has a lot of responsibility on his shoulders."
The prime minister said Safdar does not represent the government's policy and he will have to furnish an explanation.
He further said that any measure which causes instability in the country is deemed as a conspiracy.
Abbasi said the July 28 verdict, in which the Supreme Court disqualified Nawaz Sharif as the prime minister, should be left to history, for it will better judge the decision.
Speaking about the finance minister, he said Ishaq Dar used to work up to 16 hours a day, but now he works for 12 hours. "Dar now spends those 4 hours on the cases made against him," he said, terming the finance minister best individual in the assembly.
He also denied the rumours of having asked Dar to step down saying reports suggesting so are "baseless."

Responding to Sheikh Rasheed's accusation against him, the prime minister said only a person, who has his own hands clean, should level an allegation against him.
Commenting on economic situation of the country, the PM said challenges are there, however his government is trying to deal with them.
"Economic challenges are there, but we will overcome them. There are exports issues as well; we are trying to increase our exports, but the export policy does not get implemented in a day," he said, maintaining that after the incumbent government took over the country is in better position.
The prime minister also lauded Saad Rafique for bringing railways out of deficit.
Speaking of Pakistan International Airlines, he said he admits PIA's failure first of all and maintained the only way to improve the situation of the national flag-carrier is to privatise it.