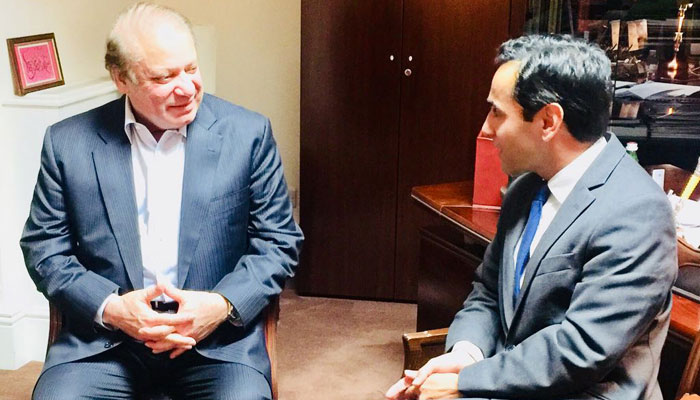 LONDON: Britain's trade envoy to Pakistan and Conservative Member of Parliament (MP) Rehman Chishti has said that former Prime Minister Nawaz Sharif has agreed to give a lecture on UK-Pakistan relations at the British parliament.
The Tory MP from Gillingham and Rainham told this correspondent after holding talks with the former prime minister for an hour on Monday here.
Rehman Chishti MP said he met Nawaz Sharif to discuss various issues including "looking at strengthening the UK-Pakistan relations, covering trade security and supporting democratic institutions". He said Britain strongly supported the democratic journey of Pakistan and has been providing support too.
The MP said he invited the former PM to give a lecture in Parliament on UK-Pakistan relations which he has accepted. Chishti, however, said that a date for the lecture will be fixed later.
A source close to Nawaz Sharif said that the meeting was held to discuss matters of mutual interest in the light of Rehman Chishti's forthcoming visit to Pakistan. He said Rehman Chishti showed his keen interest in developing better trade relations between the two countries for which Mr Sharif offered his full support.
Rehman Chishti MP was appointed as adviser to Prime Minister Theresa May last month for promotion of trade relations between the UK and Pakistan.
Greg Hands, Conservative MP for Chelsea & Fulham and Minister of State for International Trade and London in Her Majesty's Government, said in a statement that Rehman Chishti has been made UK government's trade envoy because of his "immense knowledge of Pakistan".
Rehman Chishti, who traces his roots to Muzaffarabad in Azad Kashmir where he was born, enjoys close relations with children of Benazir Bhutto. He served as adviser to former prime minister Benazir Bhutto and worked closely with her on several issues while she was in exile.