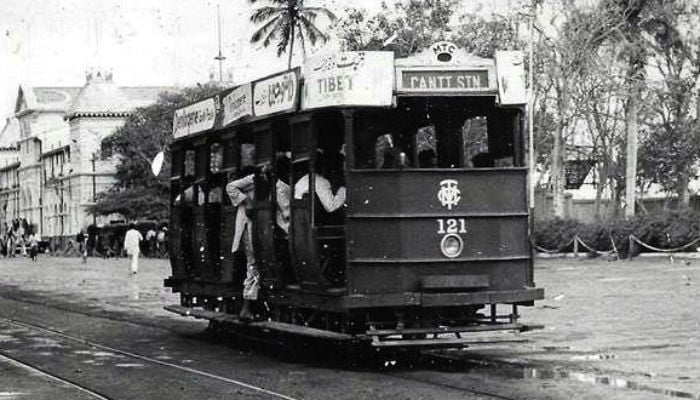 KARACHI: Commuting in Karachi is quite an arduous task, driving past narrow lanes brimming with hawkers, vendors, and different forms of vehicles, ranging from donkey cart, rickshaws, truck-art buses to countless motorcycles. In such a situation, it is hard to imagine that once trams used to rule the streets of downtown Karachi.
Trams and horse-drawn carriages were two most common ways of commuting in Karachi under the British rule. However, trams hold significance for some citizens who have lived through the 1960s; the mode of the transportation was eventually closed down on April 30, 1975.

A proposed plan for the rehabilitation of Saddar seeks reintroduction of trams for the ease of commuters.
Sharing the plan, architect Hafeez Habibi, remarked that other projects including a pedestrian trail and cycle tracks will also be implemented. He was speaking at a session on "Proposed Rehabilitation of Saddar" during the Fifth Annual Karachi Conference Saturday morning.
"I remember trams used to pass through the heart of downtown Karachi," shared one of the members of the audience. "Seeing trams operating in the city again would sure be heartening and reminiscent of the times gone by."

The tram system in Karachi was closed due to an underground railway project in the 70s and 80s, shared architect Arif Hasan, who was chairing the session.
However, the railway project never materialised.
Revamping Saddar
"Saddar, which was once a destination, a hub of public activities has today become a thoroughfare of traffic movement and the soul of the city's wonderful vibrant downtown is lost," remarked speaker Habibi.
"We need to bring back its human-friendly streets, its vibrancy, its life, its safety and its living pleasure. We want our lost memory back."
Under the new plan focus would be placed on pedestrianisation, rerouting of public transportation and restriction of the movement of private vehicles, said Habibi, adding that new bus terminals will be formed along with designated spaces for street hawkers near terminals.
Habibi also remarked that the identified educational and cultural zone, which includes DJ Sindh Government Science College, National Museum, and Arts Council, will be revamped and named "koocha-e-ilm-o-saqafat."

Habibi, who belongs to CG consultants, also shared that proposed plan for the revitalisation of downtown Saddar was initiated three years ago under the Governor's Programme of Sindh. Later, World Bank showed interest in the project and included it in it Karachi Neighbourhood Improvement Programme, which covers the area from Empress Market to Pakistan Chowk.
The plan seemed promising but many people, including the moderator, raised their concerns pertaining to implementation and completion of the project, which Habibi claimed will be completed in next three years.
What about the vendors?
Educator Rudaina Siddiqi, while presenting her research on Empress Market, highlighted the importance of including the voice of hawkers and vendors in the rehabilitation project.
She informed that the market has a total of 250 shops of different sizes and 120 vendors placed outside, who sell a myriad of products such as meat, oil, dry fruit, plastic utensils, steel utensils, vegetable, tea, oil among others.
There are also third-generation Parsi shopkeepers in the market, she pointed out.
"Many shop owners and vendors have a certain attachment to the place as they have been as conducting business in the area since years," she claimed, adding that many vendors have inherited their family businesses.
She alluded that many of the shopkeepers and vendors were not taken onboard regarding the rehabilitation project as many did not seem to know about any development project.
"They claimed to have heard rumours but no one knew about it," she remarked.
Brief history of Empress Market
Sharing a brief history of the market, Siddiqi said that Empress Market is located in the same area which was used as a punishment ground for the freedom fighters of 1857 (War of Independence) by blowing them up from the mouth of cannons.
The market was built exclusively for the British elite but later it was opened to all. The courtyard was used as a common meeting space for all shoppers and shop owners.
"There also used to be a fountain in the courtyards which does not exist anymore," she remarked.