ISLAMABAD: Former Prime Minister Nawaz Sharif arrived in the federal capital on Thursday from London. Following his arrival, Nawaz Sharif went to the Punjab House where held informal consultations with party leaders and government officials.  

The former prime minister is expected to appear in the accountability court on November 3 which is hearing corruption cases against him and his family.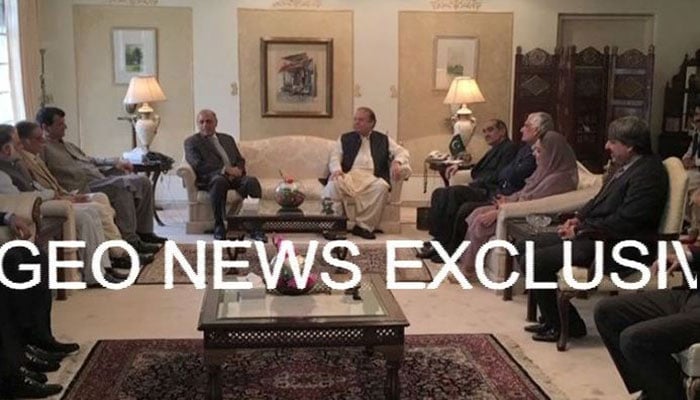 A five-member team of the National Accountability Bureau (NAB), headed by deputy director Mehboob Ahmed, met Nawaz in the presence of his lawyers at the Punjab House. 
Nawaz signed the three court summons while Minister of State for CADD Tariq Fazal Chaudhry signed the bail bond on Nawaz's behalf. 
Earlier, it was reported that NAB officials would serve the summons as soon as Nawaz disembarks at the airport but it was reported that DG NAB Rawalpindi Nasir Iqbal instructed his team not to go to the airport and instead serve the summons at Punjab House.
Talking to the media in Lahore, Nawaz's daughter Maryam said a few people would be disappointed over the former premier's return today.
She said it is not in anyone's control to keep people away from power. 
Strict security arrangements were in place at the airport ahead of the former premier's arrival. 
After landing, Nawaz proceeded to the VIP Rawal Lounge where he held a brief meeting with the party leaders and government officials who were there to receive him.
These included Railways Minister Khawaja Saad Rafique, Defence Production Minister Rana Tanveer Hussain, Aviation Adviser Mushahidullah Khan and other party leader and government officials. 
The court is hearing three corruption references against the Sharif family in light of the Supreme Court's July 28 judgment in the Panama Papers case. 

At the last hearing on October 26, the court had issued Nawaz's bailable arrest warrants. 

A number of Pakistan Muslim League-Nawaz (PML-N) workers and leaders were at the airport to greet the party president and former premier. 
On Wednesday, in an interview to Geo News from London, Nawaz asserted that he is ready to face any court and did not shy away from facing the 'Whatsapp JIT' and the Supreme Court bench that made references to 'Sicilian Mafia' and 'Godfather'.
He said despite his wife being seriously ill, in respect of Pakistan's judicial system he was appearing before the courts, despite knowing well, that the accountability process is a political sham aimed at executing further revenge, not justice.