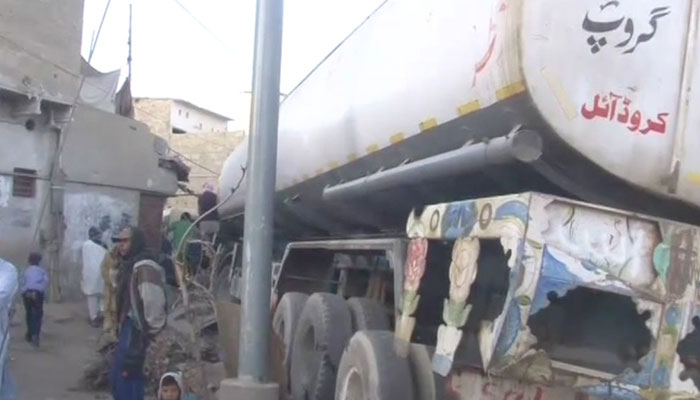 KARACHI: A speeding oil tanker crashed into a house in Korangi area of the city, killing one and injuring seven Tuesday morning.
According to the police, the incident took place when the driver lost control of the oil tanker's steering wheel, taking the vehicle on the service road from the main road. Subsequently, the oil tanker crashed into a house damaging the structure.
Eight people, who were in the house at the time of the incident, came under the debris. The injured were taken to Jinnah Postgraduate Medical Centre where one of them succumbed to the wounds. 
The deceased was identified as 20-year-old Naureen.
The neighbours of the affected family said a blast was heard after the oil tanker crashed into the house. But since the tanker was empty, they added, it saved from further damaged.

The driver of the oil tanker escaped after the incident, rescue officials said.
The traffic police reached the site with machinery to take the oil tanker out of the house, while police started searching for the accused driver and tanker owner.
Residents of the area did not want the oil tanker to be removed from the area as they said the move would deprive the affected family of a proof with which they could claim compensation. 
The locals clashed with the police, subsequently being baton-charged by the latter.   
This year a number of incidents have been caused by oil tankers, with the worst being the one that took place in Ahmedpur East of Bahawalpur in Punjab. 
Hundreds were killed in an explosion that was caused by oil that leaked from an overturned tanker. 
Most of the killed people were the ones who had come from neighbouring areas to collect leaking oil, while others were passers-by.