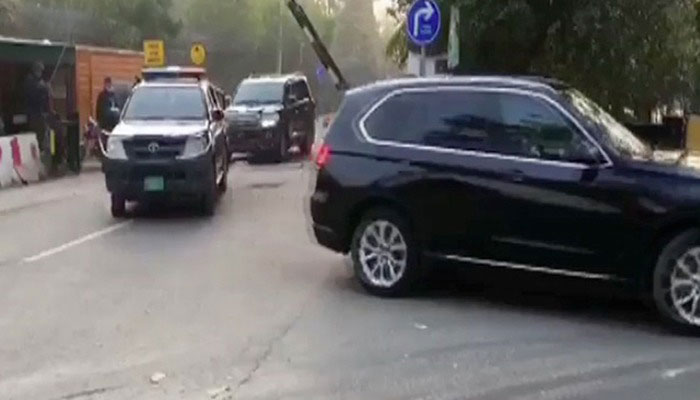 LAHORE: National Security Advisor Lieutenant General (retired) Nasser Khan Janjua called on Pakistan Muslim League – Nawaz (PML-N) President Nawaz Sharif today, sources informed Geo News.
Matters pertaining to national security were discussed in the meeting, which lasted for five hours at Nawaz's Jati Umra residence, sources said.
Earlier this month, Chief of Army Staff (COAS) General Qamar Javed Bajwa had briefed the Senate Committee of the Whole House on matters pertaining to national security and "to prepare policy guidelines in the light of emerging regional realities".
The session was also called to deliberate upon the emerging national security paradigm for Pakistan especially with respect to the recent visits of the General Bajwa and other recent developments in this regard, according to a statement released by the upper house of parliament.
The chairman of the Senate had welcomed the army chief and in his opening remarks gave a brief insight into the role of the committee in regards to issues linked with foreign policy and national security.
"Today's exercise, first of its kind, is being carried out to ensure that Pakistan's National Security Policy is in line with the emerging regional realities and the incipient security paradigm for Pakistan," the statement quoted Rabbani.
The session, which lasted over four hours, was also attended by DG ISPR Major General Asif Ghafoor, DG ISI Lt Gen Naveed Mukhtar and DG Military Operations Major General Sahir Shamshad Mirza. Chairman Senate Raza Rabbani chaired the committee session.
COAS Bajwa had briefed senators regarding the Islamic Military Alliance. According to sources, the COAS said the 41-member alliance was not against any country.

General Bajwa had also said that Pakistan would not let a war take place between Saudi Arabia and Iran, adding that no one can defeat Pakistan till 'we are united.'