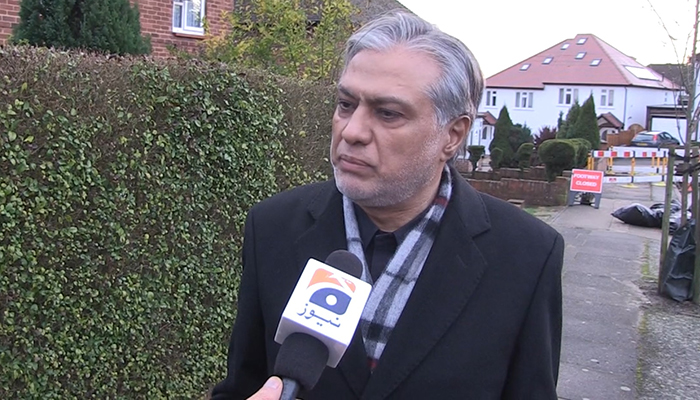 LONDON: Former finance minister Ishaq Dar has said that the National Accountability Bureau (NAB) has framed a bogus case to target him — as part of a vindictive campaign against Mian Nawaz Sharif, the former prime minister who was ousted by the Supreme Court of Pakistan on the basis of an Iqama [foreign work permit].
In an exclusive interview with this correspondent here, the former finance minister said that his name was not in the Panama inquiry and his name first surfaced when the Joint Investigation Team (JIT) was formed and later the reference was filed. "This has been manipulated and maneuvered in order to target me," said Dar, adding that one day the full truth will come out as to the real characters involved in framing him, their objectives and ambitions. "One day the people of Pakistan will know the full truth about [this] charade."
Dar said that then Chief Justice Anwar Zaheer Jamali had said that the Panama probe will remain limited to the four Avenfield apartments [of the Sharifs] and that the court will not go beyond that. "Then it started spreading from one place to another and to the next level and whole new issues were created."
Ishaq Dar, who is credited for turning the economy around after taking it over from the brink of collapse in 2013, said that he was a hurt Pakistani and "saddened at how things have unfolded, how mountains have been made out of molehills and how Pakistan has been damaged over political games".
He added: "With the grace of Allah and his last Prophet (Peace Be Upon Him), I have dedicated my life for Pakistan and always worked selflessly and with full dedication and delivered results for Pakistan. I challenge anyone to prove a penny's worth of irregularity or corruption during the four tenures that I was privileged to serve in various PML-N governments. I am ready to face any punishment if it's proven that I was ever involved in corruption, favouritism for anyone, nepotism or other undue favours. I am ready to be shot and hanged in a public square if any corruption is found against me. I have a clean track record of performance. Pakistan is our beloved motherland and I wish that it makes further progress. In 2013, when I took over the reign of Pakistan's financial affairs, the world had declared Pakistan on the verge of collapse. Its economic outlook looked very bleak."

"I remember that in 2013 we used to work all the time, till 4am and then back at work at 10am and it was during the same time that I had to go through the heart procedure and a stent was inserted in my heart. We worked day and night to turn around Pakistan's economy and by the Grace of God we succeeded."
Ishaq Dar added that within four years, Pakistan started being mentioned as a country set to become a member of the G20 and that remained the case until June 2017.
The Pricewaterhouse Coopers said in a report, maintained Dar, that Pakistan is set to enter G20; Pakistan's ratings changed drastically and the institutions that had stopped working with Pakistan started conducting business with Pakistan again and all this hard work led us to see Pakistan's highest GDP growth in the last 10 years.
He said that events that unfolded in the last one year or so have shown that perhaps, "We Pakistanis are sometimes Pakistan's worst enemies and don't want stability and progress of the country through infighting and short-sighted policies". He said that Pakistan made tremendous progress in getting back recognition as a macro-economically stable country despite the fact that there were four dharnas [sit-ins] during this tenure, a political party tendered its resignations from Parliament but "Alhamdullilah I was able to help negotiate in all these events and played my role under the leadership of Mian Nawaz Sharif to the best ability and in the best interest of Pakistan".
Ishaq Dar said that his conscience is clear and "I have no burden on my conscience as I delivered and the whole world recognises that fact. If few people have made it their job to criticise me for the sake of criticising, then its fine but such tendencies are not good for Pakistan and its future".
Ishaq Dar said that he was puzzled about the reasons why his own witch-hunt started as he always supported reconciliation for the national unity. "In Dawn Leaks case, there was a stand-off between two institutions. I was in Yokohama for Asian Development Bank meeting at the time but as soon as it was over, I returned to Pakistan and played my role. This country can move forward when all institutions work together and move forward. If we pull each other's legs then it will be Pakistan that will be harmed. And it's obvious how Pakistan has been damaged in the last four months."
He said that during the Dawn Leaks saga, an implementation notification was issued and there were misunderstandings and he had to step in to play his role. "The actual report should have been published first but that didn't happen. The whole issue was based around a misunderstanding. I played my role in the best interests of Pakistan with permission from Mian Nawaz Sharif. At that time a stand-off existed between the two institutions which led to many misunderstandings that I helped to remove. I did so because it was in the national interest." He said that he fully supported Mian Nawaz Sharif's viewpoint that he had been ousted by the Supreme Court as part of an agenda against his government on the basis of Iqama. "I believe that Mian Nawaz Sharif's viewpoint is correct that the receivable [money] from the son was a formality and that should never have been the basis for his disqualification. "This is my opinion. Mian Nawaz Sharif accepted the Supreme Court's decision in its entirety and the new PM was chosen."
When asked about the recent decisions announced by the Supreme Court on Imran Khan and another respondent's disqualification case, Ishaq Dar said that huge contradictions existed between these cases and that of Mian Nawaz Sharif. "The treatment in these cases is very different. Legal professionals have compared the two and found glaring contradictions in two decisions. On the same issue, for example, in the second respondent's case and its part relating to the agricultural land, the court said that it was an FBR matter; with regards to insider trading, the court said it's an SECP matter as the respondent has accepted his involvement and paid money back to SECP and that the court has nothing to do with it. In my case, my 34 years of tax returns are also with the FBR and there is no issue with my tax returns but a completely different yardstick is being applied! Why?"
Ishaq Dar said that he was eager to return to Pakistan to face the "bogus" case against him before the NAB court but stressed that he has been advised by his doctors not to travel until his full treatment is completed. "I was advised by the doctors in London in November 2017 that I shouldn't travel. I met Mian Nawaz Sharif in Saudi Arabia on October 28 and told him about the chest heaviness and he advised that I should see my doctor in London, who, by the way, just a few weeks back had strongly recommended that I undergo angiography but against his advice I had travelled back to attend the Accountability Court's hearing . So this time I took Mian Sahib's advice and came to London where Coronary Angiography was initially undertaken. Subsequently, Transthoracic Echocardiogram and a Dobutamine Stress Echocardiogram were done among other tests and it was clearly established that I have issues with one of the coronary vessels, which for the time being is being treated with medication. However, recently an MRI was carried out on December 20 of the whole spine as I had been experiencing progressive neck pain that had started to radiate into my shoulders and left arm and hand. On December 21, the neurosurgeon confirmed that serious issues are present in the neck and lower back as per the said MRI report. Because of the current seasonal holidays, the neurosurgeon has advised physiotherapy and medication till early January 2018 when I will have to be admitted in the hospital where they will try to handle the neck issue with an injection. God forbid if it does not work the only solution is surgery which is a long drawn and time-consuming process. However, I am keen to return to Pakistan as soon as I can and am permitted by the doctors to undertake air-travel."
Dar said that he had nothing to hide and run away from. He said that the NAB had already been exposed as a farce when record tampering was found in the court and that shows how low some people can stoop.
Lastly, he added that he was extremely disheartened that NAB has even gone to the extent of seizing the accounts of his two charitable institutions (Hajveri Trust and Hajveri Foundation). "Hajveri Trust manages our orphanage house named 'Saaya' where currently 93 orphaned children live and are provided full-time boarding, lodging and education. Some of these children have been to America, Turkey and one of the students is now doing Chartered Accountancy (CA). Hajveri Foundation on the other hand is involved in pool marriages, medical treatments for the needy, payment of education fee for the poor, food distribution in various hospitals and distributing Ramazan Rashan Packages to thousands of needy. NAB has imposed Section 23 and we have been unable to operate accounts of both these institutions. If you don't like me that's fine but let the work go on; don't make the poor and needy suffer. The action by NAB shows the extent to which some people can go in order to implement revenge. Hajveri Trust and Hajveri Foundation are being targeted for political reasons. This is condemnable and highly unfortunate but my Allah is watching everything!"
Originally published in The News