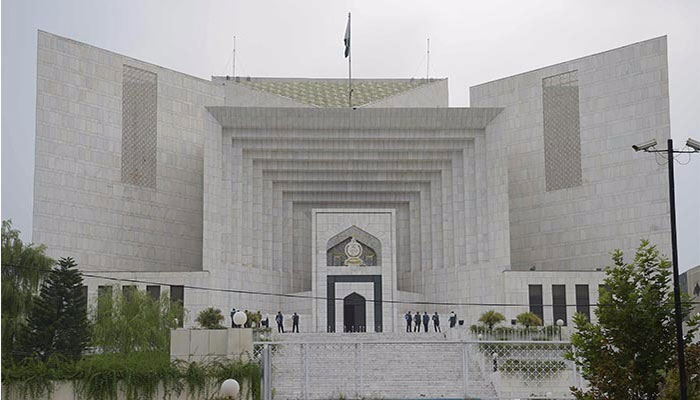 ISLAMABAD: The Supreme Court on Thursday rejected once again former prime minister Nawaz Sharif's plea to club the corruption cases against him. 
The former premier had approached the apex court on December 2 seeking another hearing of his plea.
The Supreme Court disqualified Nawaz on July 28 in the Panama Papers case and directed lodging of three corruption cases against him and his family.
Nawaz had earlier pleaded the apex court to combine the corruption cases against him, stating that lodging of three references was against the law. That petition was returned by the registar.
Later, Chief Justice of Pakistan Justice Mian Saqib Nisar, on November 16, rejected Nawaz's appeal against the registrar's decision returning his petition.
During today's hearing, the apex court upheld the earlier objections of the registrar and dismissed Nawaz's plea for the second time.  
The references
The NAB has in total filed three references against the Sharif family and another against the then-Finance Minister Ishaq Dar in the accountability court, in light of the Supreme Court's orders in the Panama Papers case verdict of July 28.
The anti-graft body was given six weeks, from the date of the apex court's order, to file the reference in an accountability court while the accountability court was granted six months to wrap up the proceedings.

The references against the Sharif family pertain to the Azizia Steel Mills and Hill Metals Establishment, their London properties, and over dozen offshore companies allegedly owned by the family.
Maryam and Safdar are only nominated in the London properties reference. At an earlier hearing, the court also approved Maryam and Safdar's bail in the Avenfield properties case and ordered them to submit surety bonds worth Rs5 million each.
Safdar was also directed to take the court's permission before leaving the country from now on. The judge also provided a copy of the reference — spread over 53 volumes — to Maryam and Safdar.
NAB's Rawalpindi branch prepared two references regarding the Azizia Steel Mills and Hill Metals Establishment, and the nearly dozen companies owned by the Sharif family.
Its Lahore branch prepared a reference on the Sharif family's Avenfield apartments in London and another against Finance Minister Ishaq Dar for owning assets beyond his known sources of income.
If convicted, the accused may face up to 14 years imprisonment and lifelong disqualification from holding public office including the freezing of bank accounts and assets.