ISLAMABAD: Indonesian president Joko Widodo received a guard of honour presented by smartly-turned out personnel of the armed forces upon his visit to Prime Minister House Saturday morning. 

Upon his arrival, President Joko Widodo was greeted by Prime Minister Shahid Khaqan Abbasi. 
Afterwards, the national anthems of both countries were played and the country heads shook hands with other dignitaries. 
On Friday, Widido arrived in Pakistan on a two-day visit. The head of state and his wife were received by President Mamnoon Hussain and senior government officials at the Nur Khan Airbase in Chaklala, Rawalpindi.
A 21-gun salute was held as President Widodo disembarked from his plane. 
Four MoUs signed between Pakistan, Indonesia
Later, the representatives of Pakistan and Indonesia signed four memorandums of understanding (MoUs) for cooperation in energy, trade and training and education.

The first agreement deals with the import of LNG and POL products from Indonesia. Minister for energy Sardar Awais Khan Leghari and Indonesian Minister for energy and mineral development signed the agreement.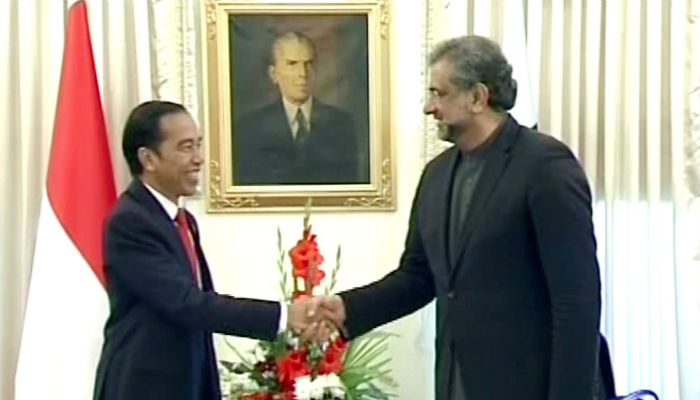 The second agreement was on an additional protocol on Preferential Trade Agreement for twenty new tariff lines. Minister for commerce and textile Muhammad Pervaiz Malik and his Indonesian counterpart signed the agreement.
The third MoU relates to trade facilitation. It was signed by secretary Trade Development Authority of Pakistan and DG for National Export Development of Indonesia.
The fourth MoU was signed between foreign service academy and centre for training and education of Indonesia in the field of training.
Prime Minister Shahid Khaqan Abbasi and Indonesian President Joko Widodo witnessed the signing ceremony.
'Democracy best way to serve peoples' interests'
While addressing a joint sitting on the parliament on Friday, Widodo remarked that conflicts and wars would benefit no one as people become its major victims and called for unity to maintain peace and stability in the region.
"Conflicts and wars will benefit no one. I repeat, conflicts and wars will benefit no one. The people, mainly women and children, always become the most impacted ones in conflicts and wars," President Widodo said addressing the joint sitting of the parliament here on Friday.
He said that besides impacting the people, the conflicts and wars also destroyed the values of humanity.

Widodo, who started his speech with slogan of 'Pakistan Zindabad (Long Live Pakistan)', also strongly advocated for democracy believing that "Democracy is the best way serving our peoples' interests. Democracy provides the space for the people in decision-making process."
President Widodo said in 1963, President Soekarno ignited the spirit to fight against colonialism as well as the spirit of cooperation between newly-independent countries.
"Fifty five years later, the President of the Republic of Indonesia is honoured once again to speak before the Parliament of Pakistan," he said.
"I would like to use this opportunity to ignite cooperation for the world's peace and prosperity.