ISLAMABAD: A Change of Command Ceremony was held on Monday to welcome the new chief of the Pakistan Air Force (PAF).

Air Chief Marshal Sohail Aman, who retired today, pinned the new ranks on Air Marshal Mujahid Anwar Khan, the new air chief, and handed over the reins of the PAF to him. 
"I cannot think of an honour better than heading the best air force," Aman said while addressing the ceremony at Air Headquarters in the federal capital. 
While speaking about the country's defence, Aman said PAF has played a vital role in protecting the country, including its war against terrorism. 

Later, Aman pinned the new ranks on Khan and passed over the baton of the PAF to him. 
Mujahid Anwar has become the 22nd chief of PAF after being appointed by the government.  
Born on December 23, 1962, Air Marshal Khan was commissioned in GDP Branch in December 1983 and received the coveted Sword of Honour, Best Pilot Trophy and Chairman Joint Chiefs of Staff Committee Gold Medal from PAF Academy Asghar Khan.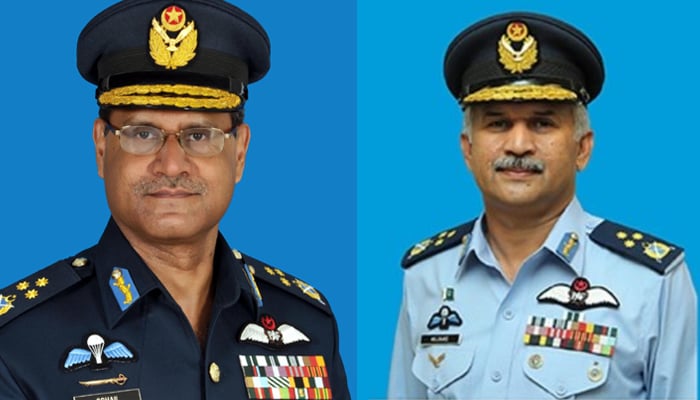 During his tenure of service, he has held various Command and Staff appointments including Command of a Fighter Squadron, a Tactical Attack Wing, Base Commander of two elite F-16 Bases and Air Officer Commanding of Regional Air Command.
Air Marshal Mujahid Anwar is a qualified Flying Instructor and a graduate of Combat Commanders' School, Command and Staff College, Jordan, Air War College, Faisal and National Defence University, Islamabad.
The Air officer has flown various training and fighter aircraft including F-16, F-6, FT-5, T-37 and MFI-17.
In recognition of his meritorious services, he has been awarded Hilal-e-Imtiaz (Military), Sitara-e-Imtiaz (Military) and Tamgha-e-Imtiaz (Military).