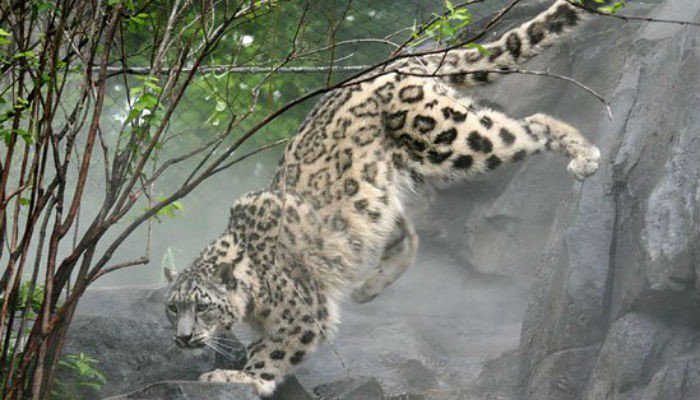 A snow leopard which passed away in Peshawar zoo last week died due to clogged arteries, a postmortem report stated on Tuesday.
Contradicting earlier reports that the leopard had reached his maximum age, the postmortem report cited clogged arteries owing to excess fat as the main cause for his death.
Speaking to Geo News, Peshawar zoo project director Muhammad Ali said the snow leopard believed to be over 10 years old was reported sick at 7:00pm on Thursday and died within 15 minutes, before medical teams could arrive.
He further said the leopard was in healthy condition and eating regularly.
"The snow leopard did not die due to warm temperature," he said. Earlier, Ali had said the snow leopard was brought to the zoo from Galiyat and was scheduled to be taken back on April 15 due to hot weather.
The zoo project director also ruled out that the leopard died as he had reached his maximum age of 14 years.
Two more tests were conducted to confirm the cause of death. The results of these tests are due after two weeks.
Since the zoo was inaugurated a month ago, at least three animals have died. Earlier, a 10-year-old monkey died at the zoo after being attacked by a wold. Following this, a four-year-old fallow deer of American-African origin passed away in the zoo.
The deer's post-mortem report revealed that it did not have any disease, adding that the deer was not able to endure exhaustion stemming from its travel to the zoo.