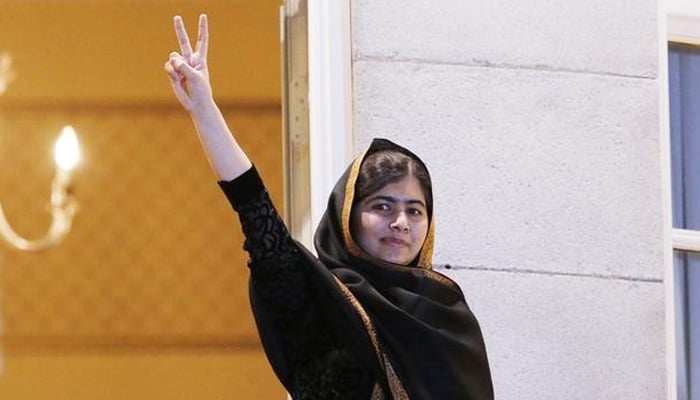 KARACHI: A visibly happy, now 20-year-old Malala Yousafzai landed back in her homeland late Wednesday night after five long years, which saw her rise to fame from a little-known village girl who blogged about injustices in Pakistan to a world-renown feminist icon and education activist.

Yousafzai, who survived a failed assassination attempt by Taliban gunmen back on October 9, 2012, when she was 15 years old and returning from school, was wearing her traditional Pakistani attire and received a warm welcome on her arrival.
Despite the fact that her flight arrived in Islamabad some 90 minutes past midnight, the Pakistani Twitterati were awake and celebrated the Pakistani Nobel laureate's return.

Here are some of the choicest tweets:
Pakistan's darling actress Mahira Khan welcomed "home baby girl @Malala!"
Geo News' own anchorperson Absa Komal welcomed "the brave and brainy daughter of the soil" with a traditional greeting: Pakhairoona!
Terming it "just the most glorious thing", author Kamila Shamsie told Yousafzai's haters: "Never say never about #MalalaYousafzai!"
Journalist Reham Khan sent her "lots of love & prayers".
Ali Raza Abidi, a Pakistan politician, "the brave and resilient daughter of Pakistan".
Irum Azeem Farooque, another politician, defended Yousafzai's "right to be back in your own country".
Some were awed at the "love on Twitter" for Malala Yousafzai.
Others simply said: "Mubarkan Mubarkan (Welcome, welcome)."
One person called her a "living legend".
Another welcomed "to our pride of the Nation".
Twitter user Neelam Gigyani wrote Malala Yousafzai's quote: "When the whole world is silent, even one voice becomes powerful."
Nazrana Ghaffar talked about her departure almost five years ago.
Muhammad Imran couldn't "express my happiness over the return" of Malala Yousafzai.
Yet another urged everyone to "welcome her with open arms and keep encouraging her".
Baseer Ahmad hoped she would "visit Shangla".
"One pen can change this world."
Zayn Ra, a passionate supporter, asked her haters: "who gives YOU the right to ask her to do anything for Pakistan?"
Food for thought: "If one man can destroy anything, why can't one girl change it?"
Arshad Ali noted that Malala Yousafzai "can play a vital role in [international] politics".
Aasia Ishaque giddily noted how international cricket returned to Pakistan with the PSL 3 and now Malala Yousafzai, too, is back.
Malala Yousafzai is "the people's leader", wrote Zubair Torwali.
Hira thinks "she shows world the positive image of Pakistan".
"Your enemies were those monsters who shot her point blank on her way to school."
Shaheera Jalil Albasit, a researcher, spoke from her "personal experience that a good number of non-Muslims / foreigners have told me how much they've learned about Islam and respect it after listening to speeches of #MalalaYousafzai".
Shama Junejo, a columnist, called Malala Yousafzai's return "a delightful moment".
Michael Kugelman, the deputy director of The Wilson Center for Scholars' Asia Program, said: "Some thought it would never happen. Some didn't want it to happen. But it did.
"A great moment for #Pakistan."
A certain Giles Regan captured a glitch on an international media outlet's page.
Samreen emphasised that it was "time for Pakistanis to stop believing conspiracy theories" because the "whole world is watching".
However, we all can agree on one thing: wishing Malala Yousafzai a safe stay in Pakistan!