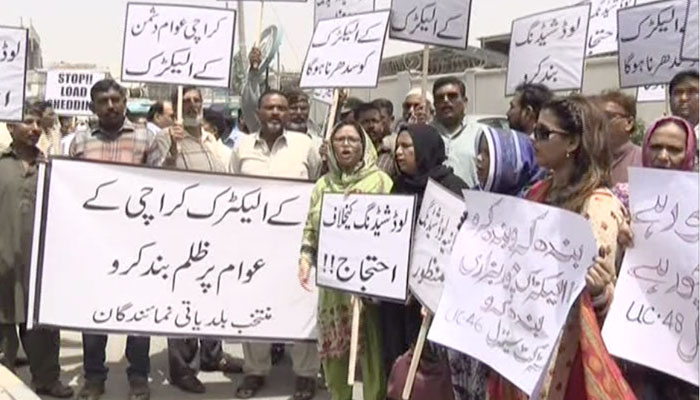 KARACHI: A protest demonstration was held outside the head office of K-Electric (KE) on Tuesday against prolonged load-shedding in the city.
Karachi Mayor Wasim Akhtar was leading the protest where demonstrators chanted slogans against KE accusing the power utility of over-billing consumers and also cutting power supply for longer durations throughout the day.
The protesters included elected members of the city council. 
Recently, KE hinted that load-shedding would continue even during Sehr and Iftar in Ramazan, unlike earlier promises when it would claim of providing uninterrupted power supply at least at the two times of the fasting days.
Besides, a recent row between KE and Sui Southern Gas Company has resulted in citizens facing hours of outages at a stretch.

The fiasco started with KE blaming SSGC of the hours-long outage, but the latter refused of having any role to play in the matter. SSC stated it had not cut gas supply for electricity despite the power utility company owing it dues.
It is said that nearly 2.5 million households were affected by the 10-hour-long power outage.
However, recently, KE and SSGC made a headway in their negotiations as former agreed to pay security deposit to SSGC as a customer.
Following the payment of the deposit, SSGC has agreed to provide more gas to the power utility company to assist in reduction of load-shedding.