She works hard all day, she comes home and still her work is not finished. Despite all the odds, working women in Pakistan struggle every day to make their space in all sorts of professions. 
"Pakistani women never disappoint me. They do such wonderful things with the least amount of resources," remarked lawyer and broadcast journalist Ayesha Tammy Haq while speaking at an evening dedicated to working women in Pakistan on May 9.
Despite the changing trend, Pakistan continues to be among the countries with lowest female participation in labour force. "Sixty-eight percent of our female graduates don't join the workforce," remarked Sadaffe Abid, founder of CIRCLE, a social enterprise that aims to advance women's economic participation.
"Women are the most underutilised potential of Pakistan. For our country's prosperity and peace, we must give them a seat at the table. Let us bring our women forward, build men as allies and make Pakistan a better place for all of us," she remarked. "Investing in women is the smartest economic venture. When women thrive, the economy improves and the country moves forward."
On the other hand, British Deputy High Commissioner Elin Burns questioned the narrative pertaining to 'superwoman', adding that she finds the term quite daunting. "I am an advocate of mediocrity. We have many mediocre [people] at the workplace, we need more mediocre women too."
Flying High
Quartulayen Pervaiz, a first officer and female pilot working for Pakistan International Airlines, shared her story with other women and encouraged them to pursue their passion. 
"When I was young, I used to jump from one thing to another. I never stuck to doing just one thing. However, when the opportunity arrived to become a pilot I took it and it was something out of this world. I still remember the day I took my first solo flight. I thought I could conquer the world," she said.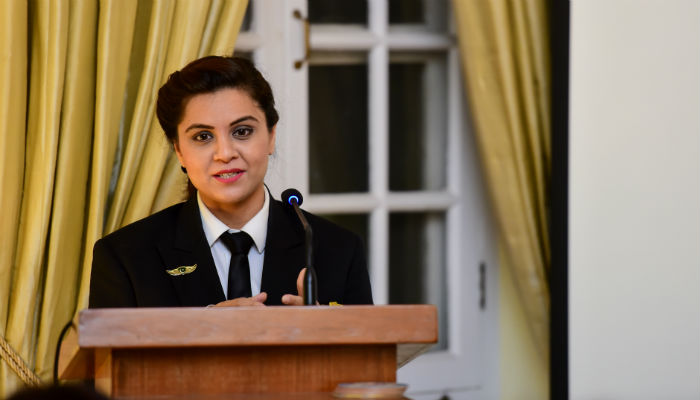 However, she accepted that the biggest barrier is managing family with a career. "I am able to pursue my passion and maintain a family life with help of my husband, in-laws and PIA management."
'We must rely on self-motivation'
Tabassum Kanwal, who works as an engineer for K-Electric, stressed the importance of women relying on self-motivation to make their space in job market.
Hailing from Hyderabad, Kanwal said that her journey has been full of challenges. "One of the biggest challenges was convincing family to allow me to work." However, she convinced her family and moved to Karachi with her husband to seek better employment opportunities. "The journey has been nothing less than a flight for me".
She also shared that she had to overcome many stereotypes to continue working in this field, adding that people at first were hesitant to trust a female engineer. "I had to perform and prove my mettle."
Power of anecdotes
Haq, in her closing speech, relied on the power of anecdotes to encourage other women. She told stories of two inspiring women who have had the most impact on her.
"When I was in Skardu, I met a young girl who was getting trained to open her own parlour. She took microfinance loans and set up a small beauty salon in a building. When I met her after two years, this young girl had bought the entire building and was training 180 women to do similar. She pursued her passion and turned her whole life around at the age of 26," Haq shared.
The other story was of an "average looking" girl from Chitral. "I say average looking because women in Chitral are known to be beautiful. However, as this girl didn't compare to others in looks she was married off to a 65-year-old man when she was only 28," Haq said.
The woman realised that her husband wasn't a good man and she left him. "However, her own family created her as a pariah and made her sleep in the outhouse with animals," Haq remarked, adding this woman didn't give up and instead took classes to learn to stitch. "When I saw her again after some years, she was stitching school uniforms for the children of the entire district and had a network of 80 women working under her."
She was ostracised as she had divorced her husband, but all changed for her and the people started treating her as a village elder seeking her advice on different matters. "Instead of being defeated, she decided to fight and look where she got."
At the event, women from different organisations who completed Growing Women Leader Programme under Circle's Elevate Initiative were awarded certificates for successfully completing it.