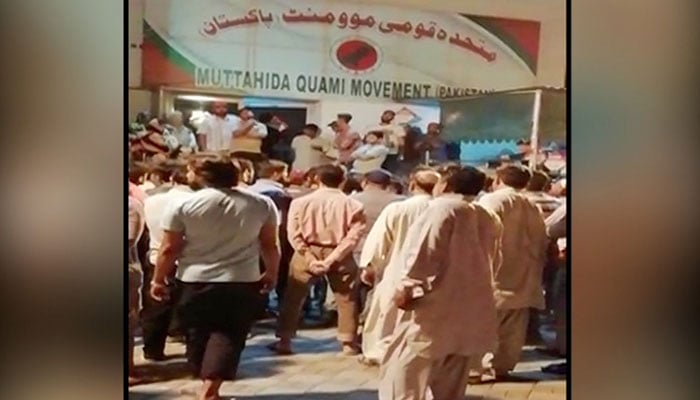 KARACHI: The residents of FC Area in the metropolis' Liaquatabad locality and Martin Quarters took to the streets late Monday outside the Muttahida Qaumi Movement's (MQM) Bahadurabad office after they were served a notice to vacate the premises, Geo News reported. 
MQM leader Kanwar Naveed Jamil said the protesters have been living in the area for a long time and asking them to leave is unjust, adding that they have been MQM voters for the past 30 years.
Jamil further added that they have hired legal counsel for those served with a notice to vacate the government houses, adding that he feared that the residents will be made homeless if asked to leave since the majority of them lived in a state of poverty. 
Moreover, MQM leader Amir Khan also said there have been numerous attacks on MQM election camps throughout the city.
He added they do not want to abuse anyone, however, members of other political parties have been beating up MQM workers.
Khan further added that they do not condone any violence and in fact, they just want to hold peaceful elections.
PTI, MQM workers clash
On the other hand, three people were injured in clashes between members of Pakistan Tehreek-e-Insaf (PTI) and MQM in the city's North Karachi locality on Monday night. 
The clashes between the members of the two political parties transpired due to the parties fighting over the right to put up banners and posters in the city.
According to the police, all the three wounded belonged to PTI.
PTI leader Firdous Shamim Naqvi, while condemning the attack on the party workers, said PTI member Faizan Muslim was attacked in PS-123 constituency.
Shamim added that he wanted to tell the MQM leaders that they should not test their patience.
PTI candidate for NA-253, Ashraf Qureshi, said their 'revenge' for MQM's 'brutality' will be taken on on July 25 with the power of the vote.