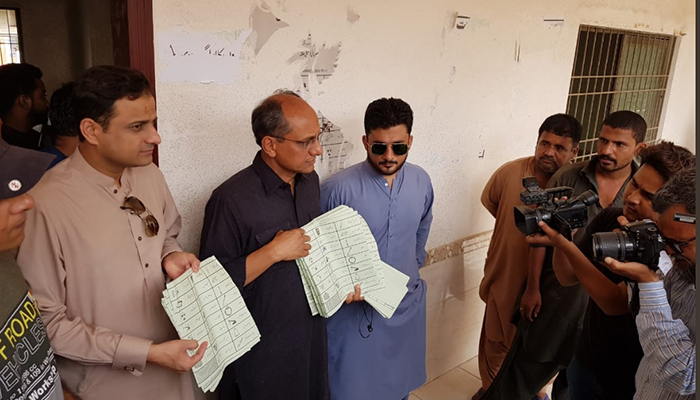 KARACHI: Ballot papers for the NA-247 constituency were found from a school in the Gizri area of the city, claimed Omar Quraishi the media consultant for Pakistan Peoples' Party Chairman Bilawal Bhutto.

"Look what the first day of school at this government school in Karachi's Gizri area turned up. The children there found ballot papers in their desks, all had votes for the PPP candidate from NA 247. They were found eight days after the Election because the school was closed till now," Quraishi tweeted on Thursday.
President PPP Karachi Division, Saeed Ghani said the party's electoral symbol arrow was stamped on all the ballot papers.
Pakistan Tehreek-e-Insaf (PTI) candidate was successful on the NA-247 seat securing 91,020 votes. PPP candidate Abdul Aziz Memon received 19,552 votes. 
Last week stamped ballot papers were recovered from a garbage heap in Karachi's Qayyumabad area. The ballot papers mentioned candidates who contested the polls from the NA-241 and PS-160 constituencies. Further, voter cards were also found alongside the ballot papers.
The Election Commission of Pakistan (ECP) took notice of a complaint regarding stamped ballot papers found in a garbage dump in Karachi. ECP Spokesperson Altaf Khan said strict measures will be taken against those found responsible for the incident.