ISLAMABAD: Former deputy prosecutor National Accountability Bureau (NAB) Mirza Shahzad Akbar was appointed on Monday as special assistant to Prime Minister Imran Khan on accountability.
"In terms of rule 4(6) of the Rules of Business, 1973 read with serial number 1A of Schedule-VA of the said rules, the prime minister has been pleased to appoint, with immediate effect,  Mirza Shahzad Akbar as special assistant to the prime minister on accountability, with the status of Minister of State," said a notification issued in this regard.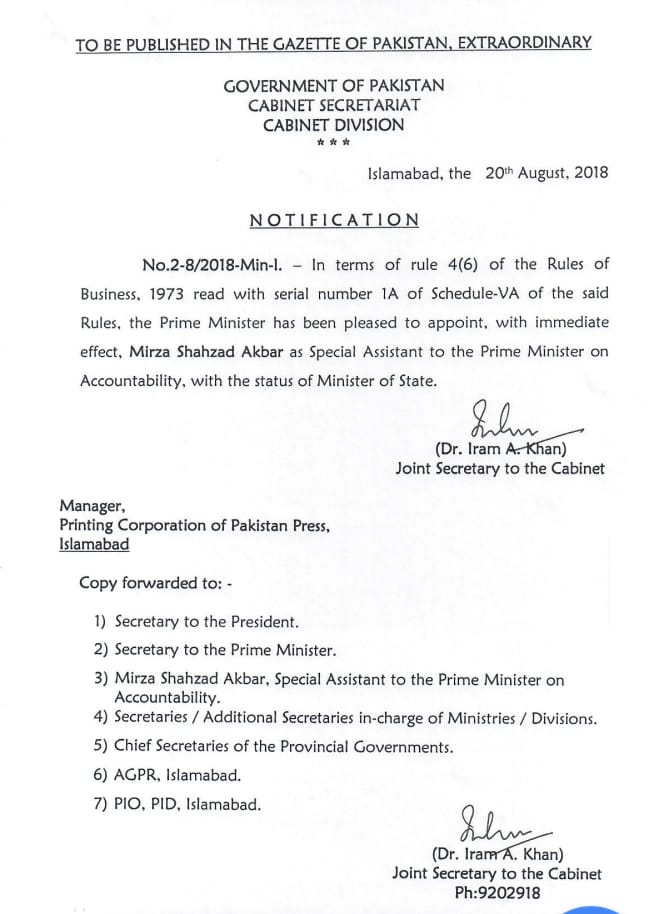 Akbar is the director of Foundation for Fundamental Rights, an organisation that provides legal aid to enforce fundamental rights guaranteed under the Constitution of Pakistan.
Last night during his first address to the nation after assuming office, PM Imran took aim at corrupt politicians and said that a high-powered task force would be formed to recover the money taken out of Pakistan illegally. 
"Never vote for a leader who has taken money out of the country," PM Imran said during his address.
The prime minister stressed that there was a need to concentrate our efforts on corruption and that he would meet with the NAB chairman and discuss what help was required.
Calling on the need to fix the Securities and Exchange Commission of Pakistan, the prime minister said he had kept the Ministry of Interior under him because he wanted to monitor money-laundering. "We will pass the whistleblower act. Anyone identifying corruption in any sector, a whistleblower, will get 20 to 25 per cent of money taken back."
PM Imran also told the nation told that people stealing the country's money are our enemies and destroying us. "Those stealing the country's money are destroying you. You have to help protect this money. It is your responsibility to stop these people and help me. You need to keep a check on us on how we spend your tax money. I want to assure everyone that Allah has given our country everything and we have to protect it," he said.