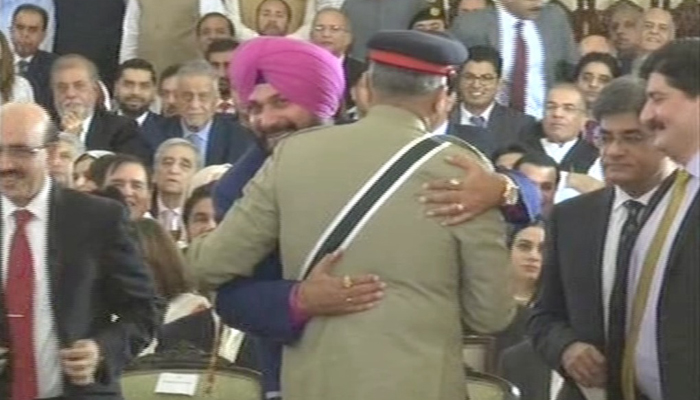 Former Indian cricketer Navjot Singh Sidhu, who recently visited Pakistan to attend Prime Minister Imran Khan's oath-taking ceremony, has responded to criticism over hugging Pakistan's Army Chief General Qamar Javed Bajwa.
Sidhu was criticised across the border for hugging General Bajwa during the oath-taking ceremony.
Indian Punjab chief minister Amarinder Singh was among those who disapproved of Sidhu's gesture and said it was "not a nice gesture" and was "completely avoidable".
"Sidhu should have avoided indulging in such a gesture when Indian soldiers are getting killed every day on the border," Singh said on the sidelines of a photograph exhibition in Chandigarh.
However, upon returning to India, Sidhu responded to the criticism.
"He came up to me. First thing, he is a Jat like the Cheemas, Sandhus, and Sidhus. All three chiefs of Pakistan defence forces came to meet people in the first row. General Bajwa walked up to me and said he is a general who wanted to be a cricketer. He was very warm and said he wanted peace," Sidhu said.
He added that General Bajwa told him the Pakistan government will open the Dera Baba Nanak (Kartarpur) corridor on Guru Nanak's 550th birth anniversary. "When someone takes names of Baba Nanak, then he has offered you everything," the former Indian cricketer said.
"I felt too much of love and affection from Pakistan side," he added.
On Saturday, Indian hardliners and members of the ruling Bharatiya Janata Party (BJP) staged a protest against Sidhu's arrival in Pakistan.
However, during his visit also, Sidhu had rebuffed Indian hardliners' criticism over his tour by commenting on how much love and respect he received from Pakistanis.
"Pakistanis have given me infinite respect," Sidhu said on Saturday night while addressing media here in the city. "The kind of love and affection that I have got from here, it's… it's unbelievable!