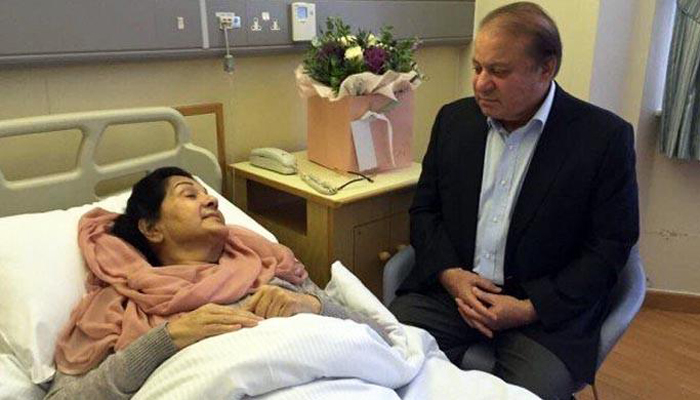 Former prime minister Nawaz Sharif met his wife, Begum Kulsoom, for the last time on July 12 as he departed for Lahore from London.
The former premier and his daughter, Maryam Nawaz, had flown to London before Eid-ul-Fitr to tend to Begum Kulsoom, who was hospitalised at the time.
A video has now emerged of the former premier's last meeting with his wife, who passed away earlier today.
In the video, Nawaz can be heard saying, "May God give you strength."
"Open your eyes, Kulsoom," the former premier is heard pleading to her.
Prior to his departure to Pakistan, Nawaz had said his wife finally opened her eyes for a few seconds — something he had revealed a day prior that he wished for. He, however, regretted having to leave her in such state to return to the country.

Nawaz and Maryam were arrested on July 13 upon their arrival in Lahore and are currently serving a jail sentence in Adiala Jail.