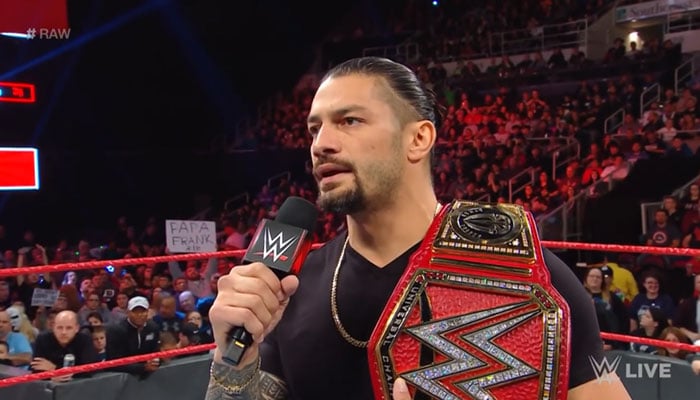 WWE superstar Roman Reigns shocked his fans on 'Monday Night Raw' when he revealed he has been battling leukemia for 11 years.
Reigns, whose real name is Leati Joseph Anoa'I, announced he was relinquishing the WWE Universal championship due to the diagnosis.
"My real name is Joe, and I've been living with leukemia for 11 years," Reigns told the crowd in Providence, Rhode Island. "And, unfortunately, it's back. And because the leukemia is back, I cannot fulfill my role -- I can't be that fighting champion -- and I'm going to have to relinquish the Universal championship. ... I want to make one thing clear: By no means is this a retirement speech. Because after I'm done whipping leukemia.. once again, I'm coming back home."
Following the announcement, the WWE issued a news release with a few additional details on the wrestler's condition.
"Tonight on Monday Night Raw, Roman Reigns [a.k.a. Joe Anoa'i] announced that he is relinquishing the WWE Universal championship and taking a leave of absence from WWE as he once again fights leukemia, which had been in remission since late 2008," the WWE said in the statement. "Reigns is taking his battle with leukemia public in an effort to raise awareness and funds for research in order to advance cures for the disease."
Reigns, 33, last performed in a WWE ring on October 15. He was billed to perform in a three-way match against Brock Lesnar and Braun Strowman at the WWE's 'Crown Jewel' show on November 2 in Riyadh, Saudi Arabia.
Strowman and Lesnar would now fight one-on-one to decide a new champion. The WWE has meanwhile said it is monitoring developments in Saudi Arabia concerning the country's alleged role in the death of journalist Jamal Khashoggi.
Reigns' heartbreaking announcement sparked an outpouring of support from fellow WWE stars.