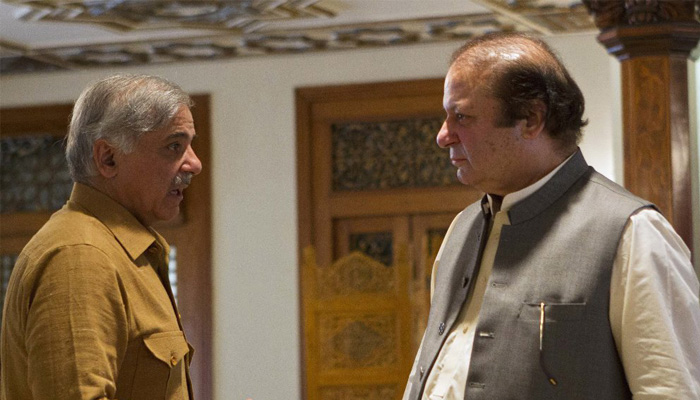 The Pakistan Muslim League-N (PML-N) has a problem. Not only is its top-tier leadership incarcerated, and undergoing corruption probes, but the political party, as a whole, is stuck in limbo.

The Sharif brothers have imposed an unofficial curfew on all party-related activities, and the promised membership drive, indefinitely, confides a senior party insider. Due to which, the PML-N workers and leaders, at the union and provincial level, are uncertain of the future. Then, there are some who are quietly grumbling.
"What keeps a political party alive, even during war times, is reorganisation from the top level to the bottom and injecting new blood at grassroots levels," a PML-N leader told Geo.tv, on condition of anonymity, "None of which is happening right now."
Even the party's hierarchy is incomplete. Most of the top office bearers in Punjab, Sindh, Khyber Pakhtunkhwa and Balochistan are still holding "acting" or temporary positions. For instance, for a few years now, Ahsan Iqbal has remained the acting secretary general in the centre. In Khyber Pakhtunkhwa, Amir Muqam Khan is acting party president and Rehmat Salam Khattak is acting secretary general. Over in Balochistan, Lt. Gen. (r) Abdul Qadir Baloch is the interim president of the PML-N in the province.
This even though the PML-N has held two intra-party elections in the last decade, one in 2011 and another as recently as 2017, when Shehbaz Sharif was appointed the president of the party and Nawaz Sharif the Quaid.
However, those with permanent portfolios in the party, besides the Sharifs, include, Raja Zafarul Haq, the current chairman, Mushahid Ullah Khan, the information secretary, and Pervaiz Rahseed, the secretary finance.
Majority of the slots in the centre, provincial, district and union levels are either vacant or filled by caretakers. Moreover, the party's youth, lawyer, business and cultural wing, which played an important role when the Sharifs were in exile after 1999, have yet to be revived.
Then there are some, like Marriyum Aurangzeb, who are named the spokesperson of the election cell, but an official notification to this regard has yet to be issued.
The Pakistan Muslim League-N, Pakistan's second largest party, which was in power from 2013 to 2018, is facing an existential crisis. To overcome which, last year it decided to launch a public contact campaign from December 30.
Nawaz Sharif would hold public rallies across the country to kick start the movement, the party agreed. Thereafter, an 18-member Central Organising Committee (COC) was set up to make arrangements and identify the party's weaknesses and strengths. Ahsan Iqbal was to head the Committee. Other members included, Hamza Shehbaz, Khawaja Saad Rafique, Khawaja Asif, Rana Sanaullah, Abdul Qadir, Awais Leghari, Nuzhat Sadiq, Raheela Durrani, Murtaza Javed Abbasi, Asad Junejo, Rana Tanvir Hussain, Abdul Khaliq Wasi, Ghalib Khan, Shah Muhammad Shah and Attaullah Tarar.
Interestingly, some high-profile leaders of the party, such as Mushahid Ullah Khan, Raja Zafarul Haq, Pir Sabir Shah and Mushahid Hussain Syed were not made a part of the committee, named by Nawaz Sharif.
Its first meeting was to be held on November 25, last year. But the date came and went, without a sit-down. Later, Nawaz Sharif was convicted in a corruption investigation and sent to prison. But even while behind bars, the Sharif brothers established a 20-member committee, headed by Muhammad Zubair Umar, to overlook party affairs in Sindh. It is unclear what the committee has achieved so far.
Over in Khyber Pakhtunkhwa, there is no permanent president, vice president or secretary general. Senior leaders, such as Pir Sabir Shah and Sardar Mehtab Abbasi has not been given a designation.
As for who will steer the party in the future, last year, its foundation day celebrations in Lahore were skipped by both Maryam Nawaz Sharif, Nawaz Sharif's daughter, and Hamza Shehbaz, Shehbaz Sharif's son. Both were till recently seen as the heir-apparent of the party.
For a party promising to revive itself, and to get back on its feet to give the ruling-Pakistan Tehreek-e-Insaf (PTI) a tough time, there seems to be little to no initiative so far.
Khan is a freelance reporter based in Lahore.