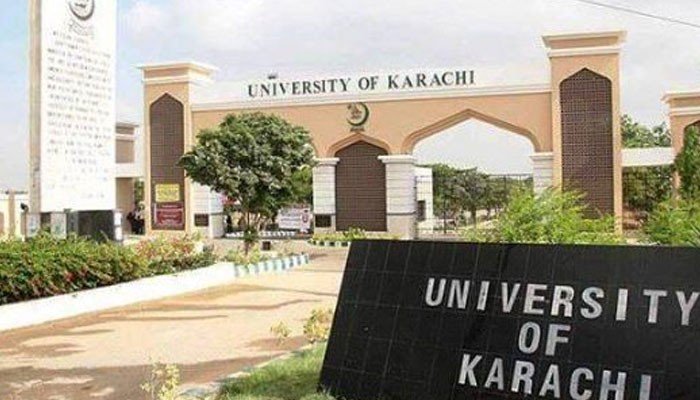 KARACHI: Karachi University termed a sexual harassment complaint filed by its students against its faculty members as "fake", saying the varsity received no "official" complaint from any students alleging sexual harassment against any professors.
Two professors of Karachi University's Mass Communication department were accused of sexual harassment in a complaint filed by six students.
The complainants alleged that the teachers in question harassed their students by sending inappropriate messages on WhatsApp, screenshots of which were attained by Geo News.
"They try their best to play mind games with female students to gain favours that have sexual overtones, all with the ever-lurking threat of failing them or putting them short of the attendance list," the complaint read.
Commenting on the allegations, a university spokesperson acknowledged that the institute had received an application from a student, but the application bore "fake" signatures.
The spokesperson said that the complaint was not filed by the victims, but rather by a "male student who is already facing disciplinary action". 
"No evidence of any kind or mobile screenshots were submitted with the application," he said, adding that the university reserved the right to take action against "fake" complaints. 

The spokesperson added that a meeting had been summoned on Friday to take action against the student who filed the "fake" complaint.
'Multiple students were harassed'
Tihmas Ali Khan, the student who filed the complaint which was dismissed by Karachi University as "fake", told Geo Pakistan that "multiple students were harassed" by one of the professors in question. 

"I recorded a video detailing the harassment. I did not mean to make it public. I gave the video to someone to edit, but it was somehow leaked. And then I was served a show cause notice by the university," he said on the morning show. 

The student further said he had tried to approach the concerned officials to explain the allegations in detail, but they refused to listen to him and "simply discarded my complaint as fake."
One of the female victims told Geo Pakistan via a telephone call that the professor in question sent her inappropriate texts on WhatsApp. 
"I was in my first semester at Karachi University. I was a new student and did not know about the professor's 'reputation'. I got a job offer from somewhere and I wanted to discuss the opportunity with the professor. He told me to message him on WhatsApp.
"He then asked me [on WhatsApp] where I lived, how I commuted to the university, about my family, my father and brother. Then he asked me whether I was a friendly person or a serious type of person. Then he suggested we become friends."

The student said she knew many of her friends had experienced a similar situation. 
"He invited my friend to his office alone. But she went in with four other girls so that he wouldn't try anything [inappropriate]."