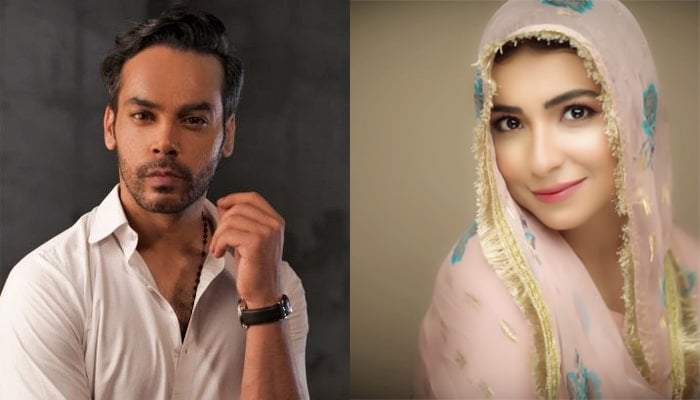 Note: Some readers may find the language in the third and fifth paragraphs offensive
Two actors, Dua Malik and Mirza Gohar Rasheed, have come out in support of Fatima Sohail, the wife of Mohsin Abbas Haider who on Sunday night revealed that she had been "dragged," "kicked," and "punched" by her husband when she was pregnant after she caught him cheating with another model.

In a post on her Instagram, Dua Malik wrote: "i still stand by my verdict, i am an eye witness. say no to #domesticabuse You can not scare women! #kabtakdaraogay?"
On her Instagram story, she wrote: "I am sure to say I am the only eye witness in this industry. I have kept this fire in my heart for 3 years. i have seen him beating the shit out of his wife on the road and where not.

"i have seen him harrassing her soo much that she dint speak to her family and friends for years. its only me she have called out of fear and harrassments hiddenly like a prisoner locking door from outside for 3 years and I kept on telling her to grab some himmat [courage] and speak out."
Malik said she only kept quiet about the issue because Fatima Sohail told her to as she was "praying he will change". She added that the day when Sohail caught Haider cheating, she told her she was "she is dumb to take this shit and shall move forward".

She added: "Women are not rehabs! you are a CON ARTIST."
In addition, Mirza Gohar Rasheed took to Twitter to say how he was a "second hand witness to it in 2018 when" Fatima Sohail was rushed to the hospital after Mohsin Abbas Haider brutally beat his wife.
"The injustice that took place with #FatimaSohail, I was a second hand witness to it in 2018 when my friend took #Fatima to the hospital after she had been beaten up by #MohsinAbbasHaider.

"Through her I got to know the whole Story. Fatima is like a sister to me. SHE, wanted to save her marriage and ensure the health of her baby so we respected that and kept quite but now since she is out with the truth her self (more power to you #fatima) (2/3) #justiceforfatima

"I wanted to say that men like these are a threat to the society I don't see him just as a spineless, pathetic sick human being , I see him as a danger. She needs justice and he needs HELP. #justiceforfatima (3/3)."
Read more: Fatima Sohail says Mohsin Abbas Haider 'dragged,' 'kicked,' 'punched me'
People speak out in Fatima's support
Fashion designer Maheen Khan said the incident was "terrible" and "unacceptable behaviour on every level".
"He is obviously a weak man," she added.
Actor Osman Khalid Butt took to Twitter, saying: "I've been staring at this screen, grappling with the images I saw, trying to form a coherent sentence.
"There is a special place in hell reserved for anyone who would lay so much as a finger on a woman.
"You cannot justify abuse. It is indefensible. I am sick to my stomach," he added.
Senator Sherry Rehman, on the other hand, offered help. She said: "Fatima like so many others,needs help. Am available in Islamabad at any point to meet and take this up.

"Many legislators feel very strongly about abuse and domestic violence. We worked for years on the lawmaking against it. Please feel free to DM me to coordinate any response."

Activist Ammar Ali Jan said: "No matter what garbage Mohsin Abbas responds with, there can never be ANY justification for domestic violence.

"Let us all stand with Fatima to ensure she receives justice and more women receive the confidence to report such abuse. #StayStrongFatima."