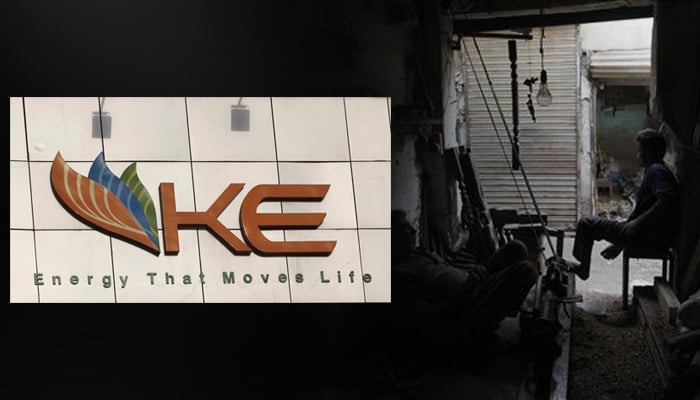 KARACHI: The metropolis' only power-supplying corporation appeared to shift the blame of the deaths by electrocution over the past two days in Pakistan's southern port city to "internal wiring issues, motors and pumps or were a result of non-KE infrastructure such as kunda wires, or hanging lights", according to a statement it issued on Monday.

Illegal power connections are commonly referred to as 'kundas'.
In its statement, the utility company — the negligence, incompetence, and shoddy planning of which led to at least 10 deaths by electrocution and an unspecified number of sacrificial animals being killed of electrical shocks — said it was "extremely grieved and saddened by the tragic incidents of electrocutions in the city which are a result of rains and urban flooding".
It added: "The KE management would like to state that the initial investigations suggest that seven, being the majority of these unfortunate incidents occurred either inside homes or buildings due to internal wiring issues, motors and pumps or were a result of non-KE infrastructure such as kunda wires, or hanging lights".

It stressed that it was "investigating all recent events including the ones reported from DHA to ascertain the underlying causes" as it was "a responsible corporate citizen".
The KE, however, noted: "Our sympathies go out to the families of the deceased."

The statement further went to mention that the power supplier was "actively conducting public safety awareness campaigns […] and engaging in consumer outreach about rain safety and the threat posed by kundas as well as encroachments near power infrastructure".
It urged people not to tie their sacrificial animals to utility poles or to place them under transformers as it was a "severe risk to public and animal safety".
The company also said: "The public is also urged to stay away from broken wires, refrain from taking shelter under transformers or touching poles during rainy weather and also requested to cooperate with KE by instantly reporting any incident, which may pose any threat to public".
Earlier in the day, the National Electric Power Regulatory Authority (NEPRA) took notice of the power woes in Karachi and advised the KE to protect human lives and immediately fix its electric network.
The death toll from rain-related incidents rose by Sunday evening to 12 after three motorcyclists were electrocuted to death on Khayaban-e-Shahbaz in the Defence Housing Authority (DHA). Numerous areas, as of reporting time, did not have electricity, with power outages going on for 12 to 18 hours.
Citizens said were annoyed that neither is the KE's customer assistance team was listening to their complaints nor making any effort to resume power supply.
The NEPRA, therefore, advised the KE to immediately resolve customers' problems and ensure power supply was resumed.
A spokesperson for the power supplier, however, had said Sunday the main challenge in working to resume the power supply was due to the flooding in the grid stations and installation areas.
Also on Monday, the KE on its Twitter account once again seemingly tried to clear itself from responsibility by saying: "Massive illegal encroachment, power-theft and dysfunctional drainage facilities have worsened Karachi's urban flooding situation.
"All civic bodies must work together to ensure a resilient city. Decades of negligence cannot be undone by blaming KE," it added.
The power company further stated that it "had alerted all civic bodies ahead of rain" and that its "teams are in the field but urban flooding is still affecting our efforts and ability to restore power supply".