All it took was a phone camera, a small crowd, and a young woman in a biker jacket to awaken an entire generation of students in Pakistan. Today, Arooj Aurangzeb has become the lodestar for a youth-led movement in a country where student unions are banned.

It has been 35 years since former military ruler General Zia-ul-Haq barred students from assembling on university and college campuses to demand their rights. That is 35 years of unresolved student issues, 35 years of being invisible, and 35 years of university administrations not being held accountable.
But no more.
On November 29, young women and men from all across the country will gather in their cities to hold demonstrations, demanding a fair academic environment and better education.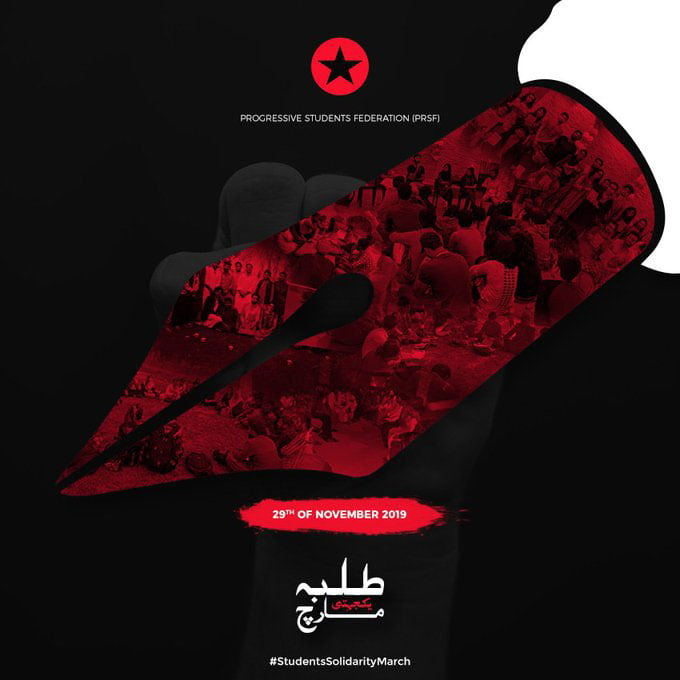 Why are the students striking?
The Students' Solidarity March insists that the government must ensure the following:
Lift the ban and hold elections for student unions
Abandon privatisation of educational institutes, and reverse a recent decision of school and college fee hike
The state should pledge free education for all
No more budget cuts for the Higher Education Commission, or sacking of educational staff
At least five per cent of the GDP should be allocated for education
Abolish the semester system
Lift a ban on students from participating in political activities
End the intervention (in the name of national security) of security forces in educational institutions, and release all students held captive
Establish committees to investigate incidents of sexual harassment, and ensure women are made a part of the set up
All universities should have a library, hostel and provide transport and an internet connection
Modernise education systems according to the modern scientific requirements
Set up schools and colleges in lesser developed areas, and increase the quota of students coming from outside main cities
Establish research centres for a transition from fossil fuel energy to renewable energy in public sector universities
Announce April 13 as a national holiday to honour Mashal Khan

"The Students Solidarity March is very important," said Haider Kaleem, the organiser of the Progressive Students' Collective and Progressive Students' Federation.
"It can change our lives, on and off the campus, for good." Through the march, he adds, his organisation, and others like it, want to ensure that students nationwide are given the rights guaranteed in the constitution.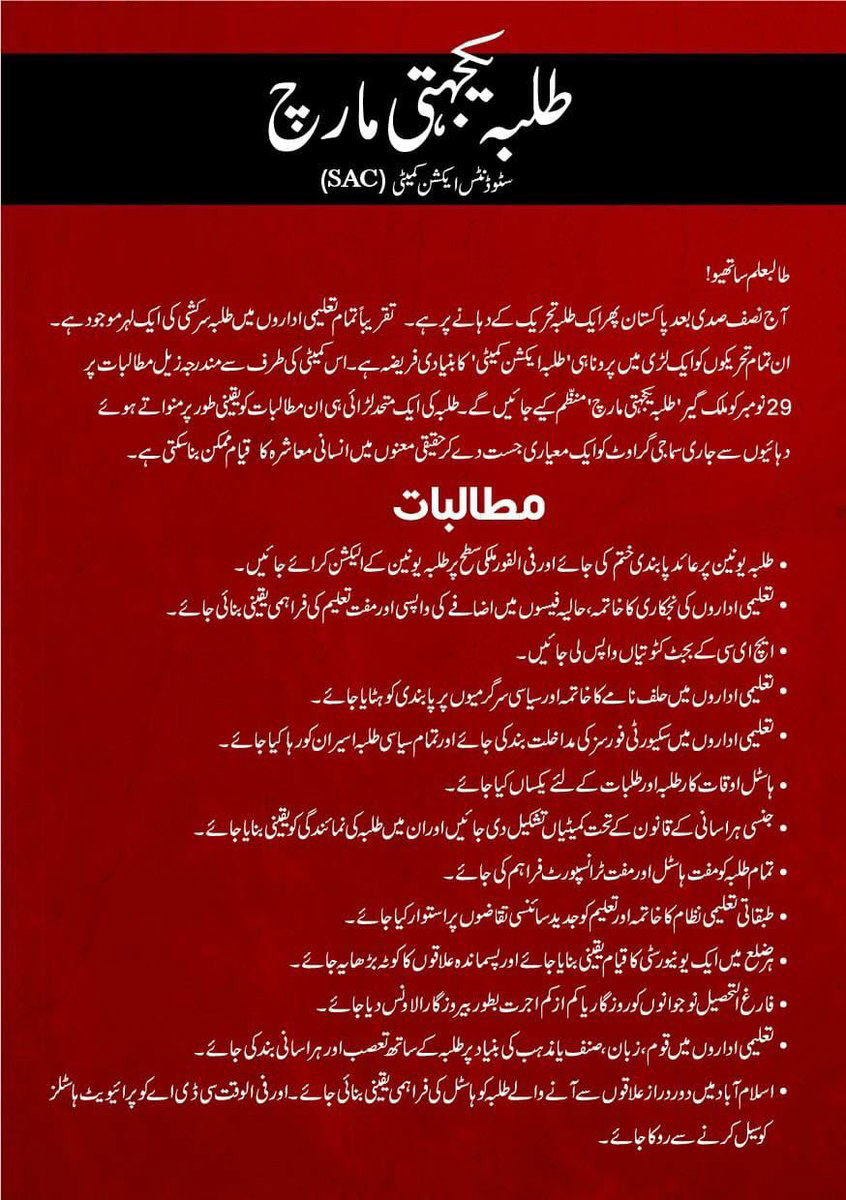 Violence in schools
In the past, students played an active role in national and on-campus politics in Pakistan. Many can be credited for giving rise to new political parties. However, in 1984, Gen Zia clamped down on unions in colleges, under the pretence of ending armed conflicts between the left and right.
"The accusation that student unions can become violent is not true," explained Waqas Aalam, a member of the Karachi wing of the PRSF and one of the main mobilisers for Friday's march. "This negative narrative was created by Zia. In fact, unions are the only way to stop violence on-campus."
Aalam adds that it was the Zia's government which introduced and promoted violence on campuses, by emboldening right-wing organisations. "People need to understand that student organisations are one thing, and student unions are another. Student unions are elected bodies which can be held accountable by the students."
Student unions: Do we need them?
Previously, there have been several attempts in Pakistan to table a bill that allows student unions to operate. In 2008, then-Prime Minister Yousuf Raza Gilani promised to revive students' unions in the country, but no progress was made. Other similar attempts also foundered.
Yet, Aalam is confident that the Pakistan Tehreek-e-Insaf-led government may legislate on the issue. "I believe under the current government there might be a chance that student unions are restored," he told Geo.tv. "When they see on Nov 29 that for the first time in the history of Pakistan, 58 student organisations, in more than 30-plus cities, will come out on the roads to protests for their rights. It will be historic."
RELATED: Battle of rights and ideas

Student activists agree that unions will help train and empower the youth to become a part of the country's democratic system.
Some of the most well-known personalities in politics, literature and art were once part of student unions, when they were allowed. Namely, Ijaz Shafi Gilani, the head of Gallup Pakistan, President Arif Alvi, former prime minister Shahid Khaqan Abbasi and poetess Zakia Ghazal, amongst others.
"These unions produced debaters, writers and thinkers," said Mughal, a former student activist. "We seem to have lost that." The college administrations, he adds, were also comfortable with the idea of ignoring dissenting voices.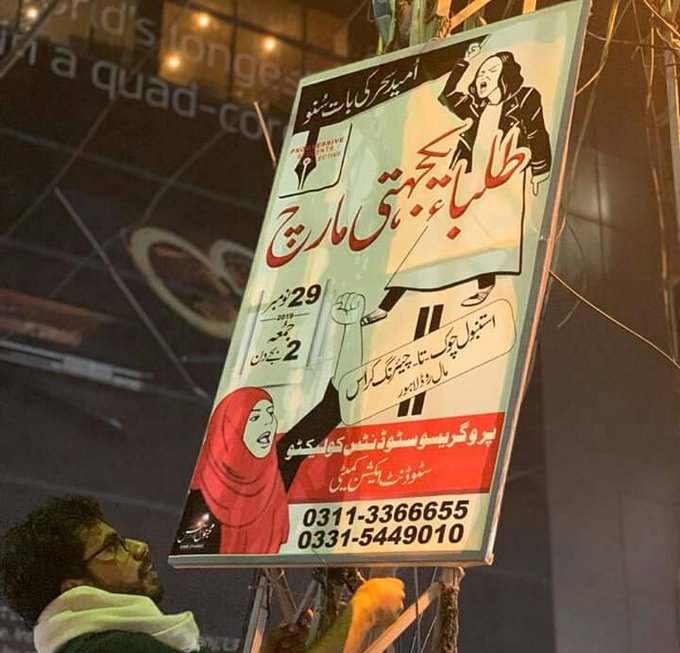 Is a return possible?
There is a consensus, if student unions are to stage a comeback, and for good, more will need to be done. The march, they agree, is only a starting point, a rallying cry that we, students, too have a voice.
Pakistan has one of the youngest population in the world. Nearly 64 per cent of the total population is below the age of 30, while 29 per cent is between the ages of 15 and 29 years, according to a report titled 'Unleashing the Potential of a Young Pakistan'.
Kaleem argues that political parties in the country are scared of allowing student to organise.
"The day students become powerful through unions, it will be impossible for a government to get away with decisions or policies that harms young people. In other words, you can no longer speak for us, we will speak for ourselves."
The Karachi factor
Organisers in Karachi, Pakistan's financial lifeline and its most populous city, are having trouble assembling people for tomorrow's march. Since the city has had a history of student organisations clashing and resulting in violence, convincing people to come out on the streets has been an uphill task.
"In Karachi, the media didn't highlight the march, like in did in other cities like Lahore," said one organiser. "So, we moved from institute to institute to spread the word."
They also faced a push-back from private universities.
ALSO READ: Aurat March 2020: Women, trans people, non-binary folks rallying stronger than ever!
"There is a general impression that students in private universities don't face any hurdles and lead apolitical lives," said a student of the Institute of Business Administration (IBA), who asked to remain anonymous. "However, private universities are more prone towards ignoring the grievances of the students to avoid tarnishing their image."
"Even in my university, the administration has often ignored genuine complaints of students regarding harassment," he added.
Fawad Hassan, a former member of National Students Federation (NSF) and a journalist believes student organisations should cut across class, ethnicity and public and private schoolings.
"The law and rule should be implemented across the board and it should be made mandatory for every university to hold elections every year," said Hassan.
"Why should university administrations make decisions about students without including them? This is the reason I march. I march because I think education is a right and not a privilege."