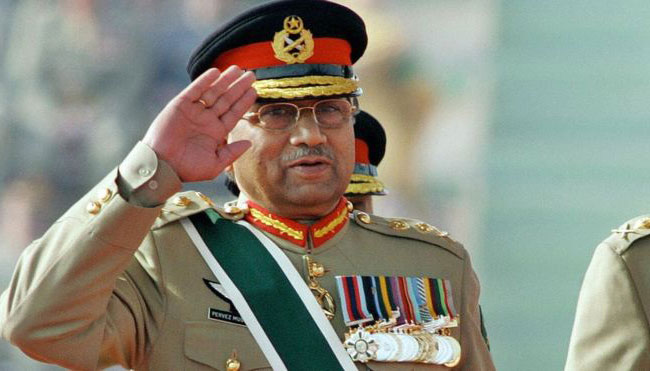 A specific portion of the special court's detailed verdict released Thursday in the high treason case against General (retd) Pervez Musharraf drew quite a lot of reactions from experts and analysts — both in mainstream and on social media.
The verdict, penned by Peshawar High Court Chief Justice Waqar Ahmad Seth, sentenced the former military dictator to death. However, Paragraph 66 of the verdict was the portion that drew an outcry.

It said: "We direct the Law Enforcement Agencies to strive their level best to apprehend the fugitive/convict and to ensure that the punishment is inflicted as per law and if found dead, his corpse be dragged to the D-Chowk, Islamabad, Pakistan and be hanged for 03 days."
Reacting to the judgement, Human Rights Minister Shireen Mazari noted that while she was not going to comment on the judgement, she was "aghast" at "the language of a senior judge".

"Even a layperson knows para 66 referring to dragging corpse etc is ultra vires the Constitution. Where are we headed with such violent mindsets?"
Maritime Affairs Minister Ali Haider Zaidi commented on how it "is ridiculous to say the least".
"This is way beyond the boundaries of religion, law & logic. This judge has made the whole judiciary controversial with this barbaric judgement," he added.
Journalist Mehmal Sarfaraz said that while there may be problems with the choice of words used to convict the former president, there was no doubt that Musharraf was guilty of treason because he had subverted the Constitution.

"While we all have a problem with the insanity of Justice Waqar Seth's order/words, it doesn't mean Musharraf is not guilty of treason. He is guilty of subverting the constitution. What we should do is abolish the death penalty altogether," she wrote on Twitter.
Geo News' journalist and host of Aapas ki Baat talk show, Muneeb Farooq, wrote: "The last [three] lines of Paragraph 66 is Beyond Law & Practice.

"Indeed a wrongful exercise of Judicial Authority," he added.
Journalist Muhammad Ziauddin explained Paragraph 66 reminded him "of 17th century British soldier-turned-politician Oliver Cromwell's fate".
He added: "Interestingly, Musharraf after taking over had justified his action by referring 2 Oliver's coup."
Journalist Raza Rumi agreed with the verdict but said that "we should stick to the principle of saying no to barbaric punishments."

Legal expert Reema Omer said that there were "many grounds for appeal" in the verdict and questioned Justice Waqar Ahmad Seth's "condemnable, unlawful direction on method of execution and death penalty in general".

Senior journalist Hamid Mir said that it would be difficult to implement the verdict.

"Page 66 of the special court verdict against Pervez Musharraf says that if a fugitive is found dead his corpse be dragged to the D-Chowk Islamabad and be hanged for 3 days but I think it's difficult to implement the verdict because 'fugitive' is still very strong," he wrote on Twitter. 
Journalist Omar Cheema said that the paragraph 66 "is not only objectionable, it is impossible for some lawyers to believe that it was penned by Justice Waqar Seth".
Lawyer Yasser Latif Hamdani said: "I believe Musharraf is guilty of holding the constitution in abeyance and subverting it.

"However that Paragraph 66 by the president of the court is pure incitement," he added.
Columnist Ali Moeen Nawazish observed that "a great moment in our democratic history [was] marred and destroyed by Paragraph 66 of the detailed order".
"Two wrongs never make a right," he added.
Lawyer Ahmed Pansota talked about the controversial Paragraph 66, saying the kind of punishment written in there "were declared to be violative of inviolable dignity of man", according to 1994 SCMR 1028.
He also referred to another case, Muhammad Aslam Khaki vs The State.
Noor, a human rights advocate, said Paragraph 66 "adds nothing but optics and reflects a Judge who got carried away by populism".
"Condemn the death penalty, but in condemning Seth, don't become Musharraf apologists," she added.
A senior teaching fellow at the SOAS University of London's Politics Department, Yasser Kureshi, noted the "two very different legacies in Pakistan's constitutional history".
Taimur Malik, a barrister, termed the paragraph "inappropriate and unusual".
Another journalist looked at the fiasco from a different angle.
"Between the patriot and traitor debate, paragraph 66 is all set to turn Musharraf into a hero. Wait and see," she said.

Reporter Sheema Mehkar said: "The verdict was dead on. Mush was rightly served with death penalty.
"The paragraph 66 blotted the whole verdict & reduced its validity to zero," she added.
Another lawyer wrote that the paragraph had "no legal value".
He added: "But merely para 66 can't make judgement redundant and the judgement, to the extent of treason and sentence, cannot be ignored."
Someone commented on how "Paragraph 66 is this year's Calibri font".

While "eye-catching", they advised to "read the entire thing".
Journalist Khurram Husain, however, summed it up: "DG #ISPR pretty much said the #MusharrafVerdict is the handiwork of the enemies of Pakistan."