Ahead of the Aurat March 2020, women from all walks of life gathered at Karachi's Art Council to attend the Aurat Jalsa, where core issues regarding women and minorities were discussed in sessions panelled by seasoned voices.
Whenever a survivor of sexual harassment opts to speak up about their ordeal, they are often slapped with a defamation suit — this issue was among the main problems that the panellists discussed at length during the day-long event.
At the session themed "#MeToo, survivor backlash and defamation in Pakistan," Sarah Zaman, a lawyer and activist, and Khushbakht Jilani moderated a panel that comprised Advocate Sara Malkani, Fatima Majeed, Safina Javed, a representative of minority groups, and Treeza.
At the beginning, Malkani spoke on the legal aspects of defamation lawsuits that are pursued against the accuser of a sexual harassment incident.
Malkani explained that the bullying and hounding that follows an actual harassment incident is even worse, adding that a lawyer is needed whenever a survivor faces a defamation case — making it a cost that many cannot afford. 

"The Pakistan Penal Code's (PPC) defamation law is a criminal law, which has numerous punishment options, including jail and fines. The way our criminal system works, with desensitised law enforcement agencies such as police and the Federal Investigation Agency (FIA), it is extremely difficult to pursue legal action," she told the audience.
She lamented that the courts, magistrates, the FIA, and police have not received any sensitivity training, which further complicates cases.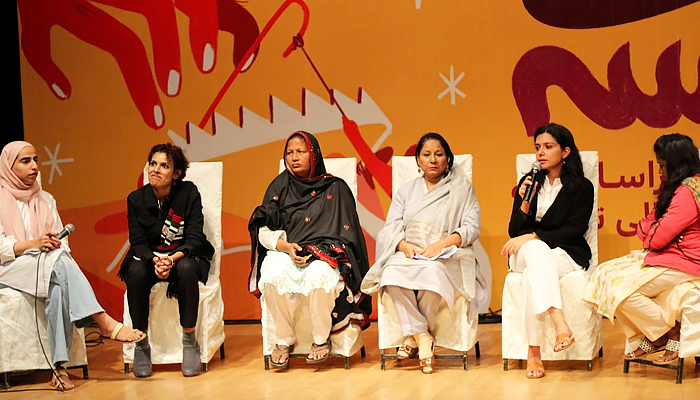 Given that harassment is quite difficult to prove in itself, the insensitive behaviour leads to intimidation of victims and instances of referring to abusers indirectly in order to avoid getting entangled in prolonged legal battles.
"There should be ways to fight this matter. For instance, numerous countries are removing such laws (decriminalisation of defamation). Another option is for the law enforcement agencies or judicial system to step up by not starting defamation or legal action right away, and courts ensuring that they do not take too long in the proceedings," said Malkani.
At one point during the session, Treeza, a assault survivor being assisted in her case by War Against Rape (WAR), an NGO, got visibly overwhelmed and was unable to continue while recalling the harrowing incident.
Moderator Sarah Zaman, who herself has been associated with WAR in the past, then turned to Fatima Majeed of the fisherfolk community, who explained the scenario in context of women working in fisheries.
Majeed said almost 70 percent of households in the fisher community were being run by women, who face frequent instances of harassment at factories.
She said the issue often leads to silence on the part of women from the fisherfolk community because they are unable to take legal action. Not only that, these women also suffer from other concerns such as lack of safety, gender pay gap, and a constant fear of losing their jobs in case they choose to speak against harassment at work.
Majeed said the concept of unions also doesn't save the day for these women and their plight. "Even if the law is there, it doesn't apply to the poor because its written by rich, powerful men."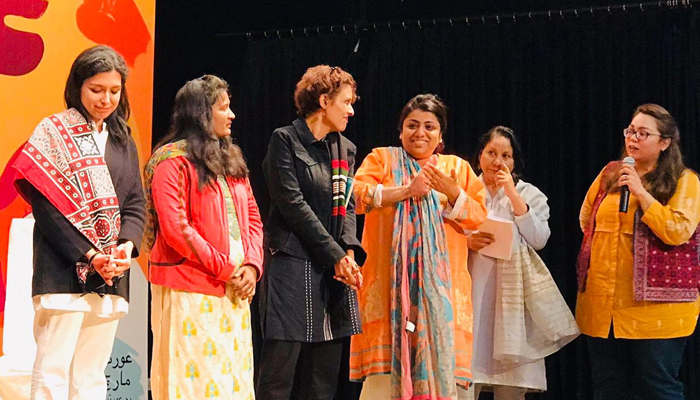 Malkani, the lawyer, went on to say: "There are several loopholes in the law (Harassment of Women at the Workplace Act, 2010), there's no definition of workplace, there's the fact that the ombudsperson and the Lahore High Court have dismissed petitions on mere technicalities [in the past]."

'Sexual harassment and MeToo movement are real in Pakistan'
Earlier, while speaking to Geo.tv, organiser Qurrat Mirza said the main reason to hold the jalsa was to ensure that women were not only raising their voices, they were also following up on these persistent issues.
Mirza said the jalsa was held to spread awareness that "sexual harassment and MeToo movement are real in Pakistan".
She contended that the Pakistani judicial system should be women-friendly and there should be survivor support system as well, adding that harassment cases need to be "pursued in civil courts rather than imposing criminalised act on women".
"We will take up two issues to legislators; one regarding the forced conversion bill and the other about decriminalisation of the defamation law in relation to sexual harassment and assault cases."