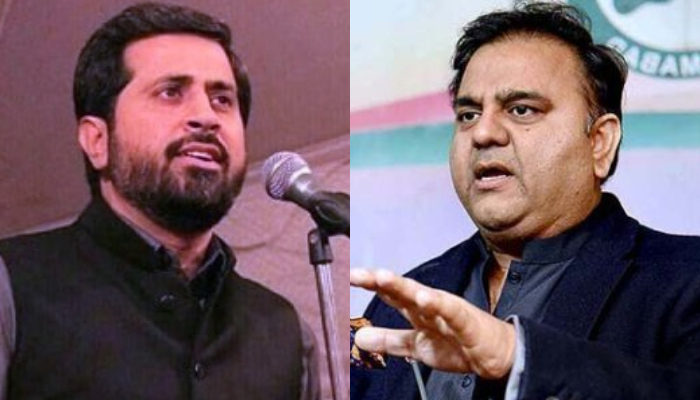 ISLAMABAD: Punjab Information Minister Fayyaz ul Hasan Chohan on Thursday said he could "only lament" Federal Minister of Science and Technology Fawad Chaudry's criticism of Chief Minister Usman Buzdar's governance.
Speaking during a talk show on a private news channel, Chohan said he had had almost a 35-year experience in politics but Chaudhry was "keeping himself above discipline [in his] attitude and behaviour", which was "very destructive to any party, institution, group or family"
Highlighting how the science minister had criticised the Punjab government, CM Buzdar, and other issues five or six times in the past, he said "every month, he [Chaudhry] tries to be a hero".
"He's my brother, my friend, and he's very competent in some aspects but I believe that he has crossed a boundary in terms of violating [party] discipline.
"One should should think of the benefit of the boat one is in," the provincial information minister said, adding that it was neither Chaudhry's authority or prerogative to form an opinion on the chief minister that he should step down or should be retained.
'Would have dealt with him'
"The chief minister comes under the prime minister of Pakistan, as the chief executive of Pakistan, [who] is 100 percent on [Buzdar's] side, the entire provincial Cabinet is on his side, the MPAs from treasury benches are on his side.

"I ask him, 'Brother, what's your problem?' My constraint is that he's my friend and he belongs to my treasury bench and my group, my party. Otherwise, I would have dealt with him in my signature way, my beautiful typical way.
"I can answer him in a very good manner but I'm bound because I have a disciplined attitude. That's why I will not — categorically — retort to Fawad Chaudhry," Chohan said.
He added that his request to the science minister was that an "excess of everything is bad everything has a limit", that he was a responsible person, a minister of the federal Cabinet, and should remember that choosing words and expression according to the time and place was extremely necessary.
'Prepare Ghauri II or III for space'
"I'll give a small example. In the first two months [after coming into government], we judged and learnt a lot about many things, including the Opposition. We know that the cameras are on us all of 24 hours and that we should speak carefully, even about our opponents.
"Fawad Chaudhry still doesn't understand or have the experience about how to speak about his own [party and party member] and I can only lament," he added. "However, this has been his problem and he will never change."
Chohan went on to advise Chaudhry to stick to the science and technology ministry and make sure that Pakistan became a force to be reckoned with in the space.
"I request you to prepare a Ghauri II or Ghauri III for space. Leave the clerics and Usman Buzdar alone," he added.

Chaudhry slams Buzdar in PTI meeting
Earlier, in a meeting of the ruling Pakistan Tehreek-e-Insaf's (PTI) core committee, the science minister had lashed out at Buzdar over the latter's "failure to deliver". He had also reportedly informed Prime Minister Imran Khan that of the Rs350 billion allocated for Punjab's development projects, the provincial government had only utilised Rs77 billion.
Sources had informed Geo News that Chaudhry also accused the Punjab government of not disbursing the finance commission award to the districts. In response to the accusations, the PM had directed the provincial government to release the award, the sources added.
The science minister had also criticised last week the availability of discretionary funds to chief ministers, saying on Twitter they were "against public interest" and a violation of Article 140-A of the Constitution.
CMs consider themselves as 'kings'
His comments came amid reports that he was upset with the provincial government. He had said the problem was not limited to Punjab but stemmed from an unfair allocation of development funds.

"The problem is of the distribution of funds and not of Punjab government," Chaudhry had said in a post on Twitter. He had added that the dispensation of funds at the chief ministers' discretion, instead of a set formula, was against Article 140-A.
In his tweet, he had also said chief ministers considered themselves as "kings".
"The chief ministers consider themselves kings [because of the power to dole our funds as they please]," he tweeted, adding that "this is against the public interest."